In line with its decision made on March 12 to suspend all FIBA competitions, a decision which was confirmed at the FIBA Central Board on March 26 and 27; FIBA, on May 20, announced a new series of updates for the FIBA 3×3 2020 season.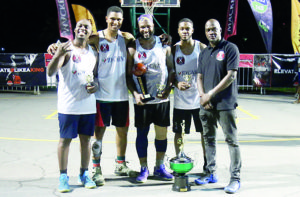 No FIBA 3×3 official competition will take place before August 2020 at the earliest, and this is due to the current situation with the coronavirus (COVID-19) pandemic.
As a result, some events had to be cancelled. The majority of them are still on course to be played in the third or fourth quarter of the year. A final decision will be taken at a later date.
This may be good news, as events can be pushed around and rescheduled if the current COVID-19 pandemic in Guyana is put to a stop. In terms of Guyana and its 3×3 ranking, the men's team are 152nd, while the women's team are unranked. This ranking was determined by the nine top performances of the players in the last 12 months. Normally, the 3×3 basketball season starts in April each year, but because the entity has suspended all competitions since March, the sport will see the beginning of its year delayed by a few weeks.
The Federation has said that competitions held before the halt in activity would continue to attract points, but those would be counted only after the resumption. The service life of previous events' points would also be extended, but with a hard cut-off of October 1, 2021.
It is worth remembering that ranking is a fundamental element for the 3×3 basketball organisational model. Individual rankings determine the positioning of teams and selections. In addition, several competitions are based on the rankings to define their classifieds.
Guyana shot off its inaugural 3×3 competition in 2019 as it featured a classic thriller in the Rawle Toney/Mackeson 3×3 tournament. The match-up saw Pitbull emerging victorious.
When the COVID-19 period has ended, many 3×3 teams would be anticipating the second edition of the tournament.