The Fort Island Stelling which was rehabilitated to the tune of $82 million, was on Tuesday commissioned by Public Works Minister, Bishop Juan Edghill, who stated that the new facility will provide vast opportunities to the residents of the island.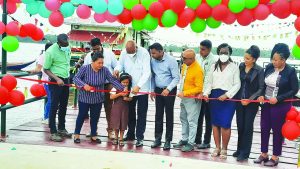 "In delivering this stelling we're delivering new hope, new opportunities and the possibilities for thriving economically buoyant Fort Island," he said.
The Minister explained that the project derived from the Government's philosophy that development must be equal and for every Guyanese to benefit.
"When we went ahead with this project it came out of philosophy that we operate by as a Government that every Guyanese is important and every community is important and development and progress must come to every community."
He highlighted that when his Government came into office, the greatest problem relating to Fort Island was to get the stelling rehabilitated since the island is a hot spot for visitors and tourists.
The Minister further stated that plans are afoot to have transportation that will assist the elderly and others around the stelling and the island.
Meanwhile, the Minister within the Ministry of Public Works, Deodat Indar said that previous APNU/AFC Administration vetted out the much-needed repairs for the Fort Island Stelling that was falling apart at the time.
"In 2020 December while we were back into Government and we were preparing a budget and I said to them we will put something in the budget for this island, when we met and my colleagues sat down with Transport and Harbours, we said that we want Fort Island (Stelling) rehabilitated," Indar explained.
He noted that in the past, farmers had difficulties transporting their produce by boat due to the deplorable state of the stelling but noted that with the new facility comes new opportunity.
The contract was signed for the rehabilitation of the stelling on August 18, 2021, to the tune of $82 million and was awarded to IB contracting and Machinery services.
The project which was completed in March of this year saw a number of 85 piles being driven into the low and high ramp areas as well as the main carriageway area, coupled with a number of other major repairs that had to be conducted on the stelling.
For the first time, the stelling will be benefiting from solar-powered technology.
According to officials from the Transport and Harbours Department (T&HD), the Stelling will also be reintroduced to stops by the Bartica ferry which was discontinued in the past due to the Stelling's previous condition.