Liza Destiny FPSO
– on track for start-up later this month
After weeks of repairs following recurring technical issues, the newly upgraded flash gas compression system onboard the Liza Destiny Floating Production Storage and Offloading (FPSO) vessel has returned to Guyana and is being reinstalled.
This was revealed by ExxonMobil Guyana's Advisor on Public and Government Affairs, Janelle Persaud, in an operation update on Friday. The flash gas compressor on the Liza Destiny FPSO has been experiencing technical issues since earlier this year.
"The new, upgraded and or repaired components of the flash gas compression system on the Liza Destiny FPSO have arrived offshore Guyana and are being reinstalled. These include a newly designed third stage discharge venturi and upgraded discharge silencer," Persaud indicated.
She further noted that the team remains on track to complete reinstallation and start-up of the flash gas compressor later this month.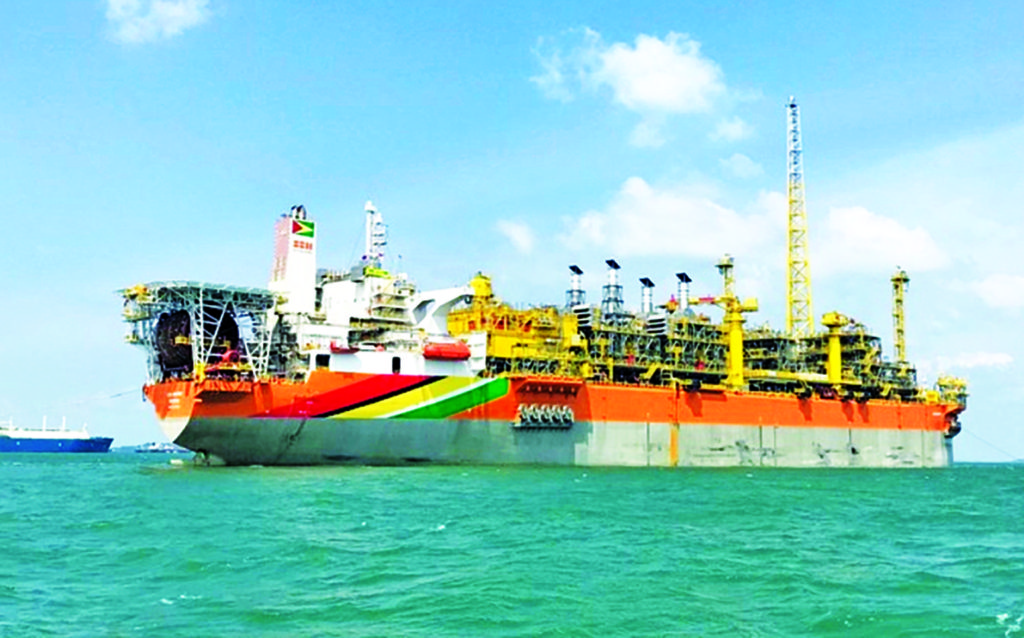 The third stage discharge silencer, a key component of the flash gas compression system for the Liza Destiny, has had to be upgraded. Additionally, a redesigned 3rd stage discharge venturi had to also be manufactured.
These issues had resulted in oil production on the Liza Destiny FPSO in the Stabroek Block offshore Guyana being reduced to 110,000 barrels per day (bpd).
In the meantime, the ExxonMobil Guyana Advisor explained in Friday's update that the oil major continues to safely manage flaring levels to less than 15 million standard cubic feet of gas per day (Mscfd).
The United States oil giant has come under fire over its increased flaring activities in recent years with environmentalists up in arms over environmental and safety concerns.
Earlier this year, Exxon had sent its gas compressor for repairs in Germany after it developed technical issues resulting in increased flaring. But after being reinstalled in April, technical issues were still encountered, forcing the company to significantly drop production and raise flare levels.
In response to mounting pressure, the Environmental Protection Agency (EPA) last month recalled and modified the Environmental Permit for the Liza-1 Development Project to include, among other things, a fee of US$30 per tonne of excess carbon emissions that is flared – something that was missing from the permit approved by the previous APNU/AFC Administration.
The other changes to the permit are revised terms and conditions relating to emissions reporting requirements, technical considerations for flaring and timelines for flaring events.
As of result of this modification, Exxon will now have to pay the Guyana Government some US1.3 billion for the excess flaring. The oil major had applied to continue flaring for a 36-day period, which started on May 26.
Based on calculations, Vice President Bharrat Jagdeo had disclosed that this 36-day flaring will rack up a fee of some US$1.3 million.
"They say they're flaring about 15 million cubic feet per day now. That would be equivalent to about 1152 tonnes of CO2e (Carbon Dioxide equivalent) …It should take us to 1.3 million US dollars," Jagdeo told reporters during a press conference last month.
Meanwhile, Natural Resources Minister Vickram Bharrat last month said Exxon's local affiliate Esso Exploration and Production Guyana Limited (EEPGL) will switch the manufacturer of the compressor equipment it uses, to ensure there is no flaring during future projects.
"This now has forced us to enter into engagements with Exxon to ensure that the Unity FPSO that is coming later in this year, and then Prosperity in early 2024, that we don't have this issue with those FPSOs… So, we have gotten that assurance that General Electric will be used as the manufacturer to ensure that the compressor, there is not a recurring problem on those FPSOs with the gas compressor," Bharrat told reporters.
General Electric is a US multinational company. Minister Bharrat explained that this adjustment is needed since both the Liza Unity and Prosperity are each designed to produce 220,000 barrels of oil per day – almost twice the amount of the Liza Destiny.
Only recently, Public Advocate on Environmental Justice in the Michigan Department of Environment – United States, Regina Strong, had emphasised the need for governments to play a more stringent role in holding investors accountable to environment best practices.
During a three-week Virtual Report Tour (VRT) on "Combatting the Climate Crisis through US Innovation" hosted by the US Department of State's Foreign Press Centers (FPC), Strong in response to a question from Guyana Times on how governments can ensure adherence to environmental best practices especially by foreign investors, acknowledged that this can be challenging. But in the same breath, she contended that governments need look at the bigger picture of the impact of certain projects on the environment.
"One of the things that I've always found challenging is because everything's divided up so much, we only ask for that slice. I think it is incumbent upon us as Government to ask for a bigger-picture look. How does this [project or investment] fit in and where will the impact [on the environment] be? So, asking the right questions up front is [important]. Sometimes people feel like it's – well, it's not our role because we're only regulating this slice, but how will you know the impact of the bigger picture if you don't ask that question? So, I would argue that that has to be part of practice. It may not be now, but I think it should become part of the practice as you work with industries," she posited.
Further, Vice President Jagdeo, who was awarded the United Nations "Champion of the Earth" award in 2010 during his presidency for his signature Low Carbon Development Strategy (LCDS), agreed that investors will have to adhere to and follow environment rules.
"It's a rules-based country… They all have to follow the rules. I don't think this was just a rule-based thing [but] that's one thing you have to agree with – people need to follow the rules," the Vice President had said in response to a question from Guyana Times during his press conference.