Following his second appointment to a major position in international boxing for 2019, Guyana Boxing Association President Steve Ninvalle was yesterday honoured for his outstanding achievements.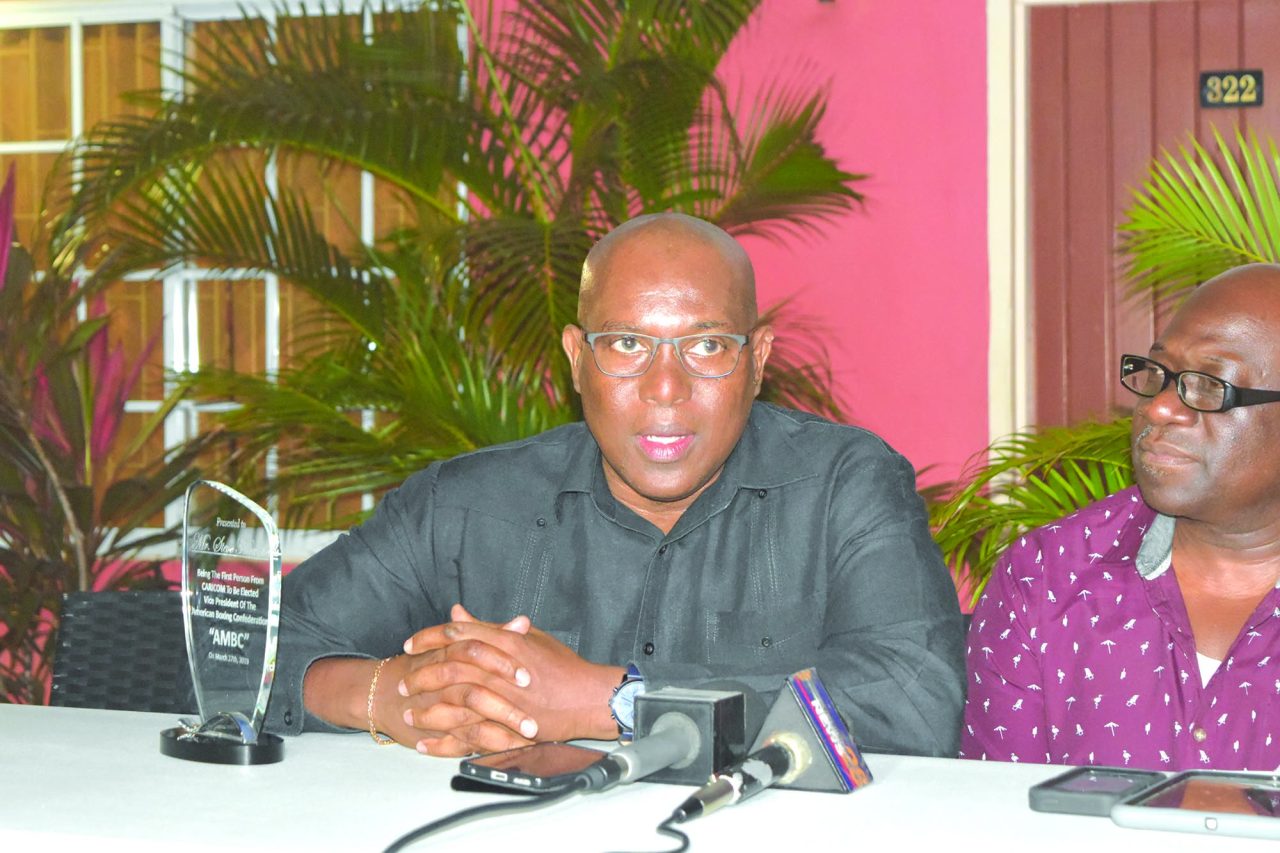 After having been elected president of the GBA in 2009, Ninvalle in 2014 became the first person from the English-speaking Caribbean to be elected to the executive committee of the (International Boxing Association) AIBA. In 2017, he became the first person from this hemisphere to be elected to the five-member AIBA executive bureau. Then in January 2019, Ninvalle was appointed chairman of the Caribbean Steering Committee. In February, he ascended the ranks to become chairman of the AIBA Youth Commission, and in March he became vice president of the 43-member North American Boxing Confederation (AMBC).
Those were the words of Seon Bristol on Wednesday evening at the Windjammer Hotel, as he detailed some of Steve Ninvalle's accomplishments over the past 10 years.
Bristol, proprietor of Briso Promotions, who took the onus upon himself to honour Ninvalle, explained that such activities need to be done when our countrymen excel.
"I emphasise these things for the fact that quite too often we tend not to take advantage of recognising our people. When I say 'our people', I mean our Guyanese; this has nothing to do with creed, race, religion or anything of the sort. But as we strive and grow in what we specialise in, it is important for us to recognise these things," Bristol explained.
Given opportunity to speak, Steve Ninvalle said, "I hope this signals a change, that our sportsmen will actually be honoured at home." He went on to disclose that he intends to use his position to better boxing in the Caribbean Region.
"I would want to use this election, my new position in AMBC, to serve: one, Guyana better; to serve, two, the Caribbean better; and to serve the Americas better. You are as good as what you do always, and sometimes we wear hats but we don't tend to achieve what those hats are supposed to do. So I would hope that I would have the necessary support, because we will need support if we're going to do any better," Ninvalle said.
Meanwhile, The GBA President revealed that one of his first areas of concern is one that hits close to home. Explaining that some boxers are still unsure of their Pan Am qualifiers fate, Ninvalle shared that he intends to work in order to make travel readily available for Caribbean boxers.
"I plan to use this position that I have to make sure that not only boxing in Guyana wouldn't remain ambivalent or undecided at the last hour, but right through the Caribbean and Latin America. Because of the fact that, psychologically, we put a burden on sportsmen when they're undecided after doing this hard training."
Nine Guyanese boxers are currently under the tutelage of Francisco Roldan and Terrence Poole as they prepare for the Pan American qualifiers. However, the boxers are still unsure whether enough funds will be raised for their travel next week.
In addition to the kind words, Ninvalle was presented with a plaque on behalf of Briso promotions.