A despondent tone was sounded as Government signalled that with no financing readily available from countries such as Norway, it will not be pursuing hydro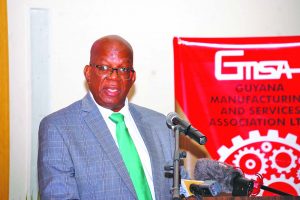 power as a means of renewable energy unless private investors step in.
This revelation was made by Finance Minister Winston Jordan during the Guyana Manufacturing and Services Association (GMSA) mid-year dinner. At the time, the Minister was responding to questions from the audience about the Government's seeming reluctance to pursue hydro power.
Jordan said Government is experiencing difficulty in accessing US$80 million financing from Norway (which was supposed to be used on the Amaila Falls project) and can see no other immediate solution except investors. However, even that was identified as a problem with Jordan saying that investors are unenthusiastic about hydro power.
"We are romantic about the labour force, romantic about sugar. We have to stop the romanticism. Norway has only given us $80 million, probably just enough for a small hydro (power station). They haven't given (us) a billion dollars to build Amaila Falls."
Jordan also noted that as a result of a review done on the Amaila Falls Hydro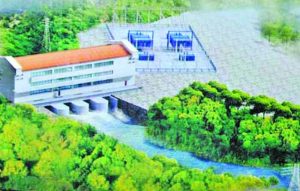 Power project by Norwegian company Norconsult, Government was hesitant about moving forward. The reason for this, according to the Finance Minister, was because of the variables contained in the report.
"Norway is making it so difficult to access the $80 million, I don't know why. We would love to engage Amaila and all the other falls, but even when you read the report that was done by Norconsult, it wasn't a report that said ready, steady, go. It was a report with a lot of ifs and buts."
"It's not an easy story. We would love to have as many hydro facilities in this country as we can. But it will always fall on technology, capacity and most importantly, finance." Jordan also told the gathering of Guyana's commercial power houses that they ought to suggest possible investors during the GMSA's next meeting with the Government.
The Norconsult report had in fact named the Amaila Falls Hydro Power Project as the only realistic way for Guyana to achieve an emission free electricity sector. Norconsult had noted the merits of the project, such as its completed feasibility study and a higher plant load than the other alternatives.
However the report had recommended the BOOT (Build, own, operate and transfer) public private partnership model be used. The consultant had urged that an international investor specialising in hydro power be invited to take a majority stake in the project. It is unclear whether this advice has been acted upon by Government.
The report states, "The only realistic path for Guyana towards an emission free electricity sector is by developing its hydropower potential. The fastest way forward is to maintain AFHP as the first major step for substituting its current oil fired generation. AFHP was prioritised as the first hydropower plant because it was the only project with a full feasibility study completed; it has a higher plant load factor than the alternatives, a smaller reservoir and a unit cost in the same range as the most attractive alternatives."
This is revealing, demonstrating that wind energy in the capacity in which Government is currently pursuing – will not support Guyana's commitment to reach 100 per cent renewable by 2025.
"As the power demand is growing, and for reaching the goal of 100 per cent emission free generation by 2025, as assumed by the [Low Carbon Development Strategy] LCDS, a second hydropower plant of capacity comparable with AFHP will have to be commissioned by 2025. In parallel with preparations for AFHP, therefore, prefeasibility studies will have to be carried out for promising candidates for the second hydropower project and a full feasibility study be performed for the selected candidate," the report surmised.
Power
The Government's lack of commitment on hydro power will undoubtedly raise eyebrows among stakeholders, especially as President David Granger had committed Guyana to achieving 100 per cent renewable energy by 2025, when he signed onto the Paris Climate Change Agreement. This is even as Guyana readies itself to become an oil producer.
Ambitious plan
Opposition Leader Bharrat Jagdeo, in commenting on this ambitious plan, had explained that converting to 100 per cent renewables involves much more than just electricity. He had noted that Government has not outlined a comprehensive plan towards attaining full renewable energy within the next decade.
"We're in 2016 and 2017 soon," Jagdeo had said late last year. "How do we get to 100 per cent renewable energy by 2025 when we're not going to build the (Amaila Falls) hydro which would have given us 94-95 per cent of our renewable electricity demand? They're going to do some small wind farm and that would not meet our requirements. But there is nothing else on the horizon, no other plan," he asserted.
But Government remains steadfast, with Natural Resources Minister Raphael Trotman recently informing a gathering at an oil and gas seminar that the discovery of oil will not slow Guyana's move towards this goal.