Pre-election dissolution of Parliament
With pressure mounting for President David Granger to dissolve Parliament in preparation for the March 2, 2020 elections, the President has contended that he is not obligated to do so at this time.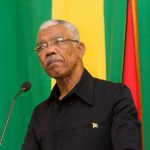 "I am not required to make an announcement at this stage. I will be advised by my Cabinet when an announcement could be made. I am aware of the constitutional requirement and right now, we are not in default, when the time is right, I will make such an announcement but right now, I am not in default, the Cabinet is not in default, the Government is not in default," he said during an interview on local radio programme "Hot Seat" with Stan Goveia.
The Head-of-State further stated that when the time is right, he will make such an announcement but for now, he is not in default, neither is his Cabinet or the Government.
The APNU/AFC coalition government had previously contended that it will not dissolve Parliament in case the Guyana Elections Commission (GECOM) needs more money to prepare for the polls.
The President, however, once again maintained that the Parliament will not be closed in case an emergency arises. "We need to keep the Parliament open in the case of an emergency. If funding is needed, we need to go back to the Parliament so I know what I am doing. I know what I am doing," the President stated.
However, GECOM has already indicated that it has enough funds to hold the 2020 General and Regional Elections.
On Tuesday, Commissioners from both the Government and the Opposition side confirmed that GECOM has enough funds to cater for the expenses that would be incurred in hosting the elections on March 2 next year.
Following the conclusion of the weekly statutory meeting, Opposition-nominated GECOM Commissioner Sase Gunraj was asked whether the Secretariat had enough funds for the holding of elections scheduled for March 2, 2020.
"As far as I am aware, yes. GECOM has $8 billion at its disposal," Gunraj said, though he could not say whether all the money has been released to them. Government-nominated Commissioner Vincent Alexander also echoed his colleague, noting that the monies allocated for GECOM are enough to ensure it conducts elections.
"We do not have a problem with funding, as far as I know… If perchance, we don't have enough funds, I think we still have some time to approach Parliament," Alexander informed the media.
Since announcing March 2, 2020, as Elections Day, and subsequent issuance of the election's proclamations, calls have been mounting for President Granger to now dissolve the 11th Parliament.
But Attorney General Basil Williams earlier this month said the coalition is still hopeful that the parliamentary Opposition – People's Progressive Party/Civic (PPP/C) – will return to the National Assembly to extend its life; otherwise, he foresees a "crisis" situation in Guyana.
However, Opposition Leader Bharrat Jagdeo had long thrown cold water on any expectation that his party will return to Parliament. In fact, the Opposition had not attended any parliamentary sitting since January when House Speaker, Dr Barton Scotland, had refused to overturn the December 21, 2018, passage of the No-Confidence Motion as requested by Government and directed them to seek redress in the courts.
If elections are to be held on March 2, 2020, as announced, then President Granger would have had to dissolve Parliament by December 3, 2019.
This is in keeping with Article 61 of the Constitution, which states that election of members of the National Assembly should be done within three months after every dissolution of Parliament.