…reassures of Sputnik V approval by WHO
Amid uncertainty over travel to the United States and other countries that do not recognise the Sputnik V COVID-19 vaccine, Health Minister Dr Frank Anthony disclosed that assurance has been given that the Russian-made jab will be approved by the World Health Organisation (WHO) in the coming months.
Speaking during Friday's COVID-19 update, Dr Anthony indicated to Guyanese who are vaccinated with the Russian vaccine and want to travel that the jab is slated to get WHO approval before the end of this year.
"In a meeting – an international meeting – we were told that the Sputnik V vaccine is scheduled for WHO approval sometime in November, the latest by the first week in December. So if they hold to that schedule then the WHO should approve the vaccine. Once it's a WHO approved vaccine then you wouldn't have any problems with travel," the Health Minister noted.
The United States has imposed certain travel requirements that will see only foreign nationals who are fully vaccinated with a US Food and Drug Administration (FDA) or WHO approved vaccine being allowed entry into the country.
Despite being given emergency approval for use in over 70 countries around the worlds, the Russian-made jab is yet to be approved by the WHO and is not recognised by the US.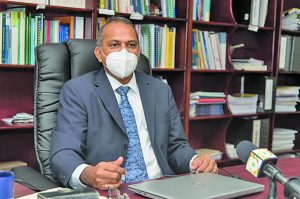 This has been particularly worrisome for Guyanese wanting to travel to the North American nation especially during the upcoming holiday season. The travel requirements will take effect on November 8, 2021, in the US.
In the meantime, the Health Minister has ruled out revaccination of persons wanting to travel to countries such as the US with vaccination restrictions.
"The Government does not have a revaccination policy. We're not encouraging it… Right now, I think a lot of people are concerned about travel to the United States… We don't have, right now, a policy of revaccination because at this point in time, if we're going to revaccinate it means that some people would get more vaccines than is necessary while we still have an unvaccinated population who would be at risk of getting COVID," Dr Anthony explained.
According to the Health Minister, Guyana has to first reduce the pool of unvaccinated persons before any consideration is given to give immunised persons additional doses.
Currently, Guyana is using Sputnik V, AstraZeneca, Sinopharm, Pfizer and Johnson and Johnson vaccines for its immunisation campaign against COVID-19. Barring the Russian-manufactured jab, WHO has already granted emergency use approval for the other jabs.
Nevertheless, to date, some 376,436 persons have received their first dose vaccine, that is, 73.4 per cent of the adult population in Guyana; while 236,238 persons are fully vaccinated, amounting to 46.1 per cent of persons 18 years and older.
Meanwhile, some 26,751 or 36.7 per cent adolescent persons have received a first dose of the Pfizer jab, of which 17,182 or 23.6 per cent of the targeted cohort between the ages of 12 to 17 are fully vaccinated.
In the coming weeks, Guyana is expected to receive additional doses of the Sputnik V second component, AstraZeneca and Pfizer vaccines. (G8)