…says energy costs must be lowered for Guyana to be competitive
…natural gas strategy, regional energy corridor being developed
The Government has embarked on an agenda to transform Guyana into a renewable energy powerhouse that will slash the cost of energy, and according to President Dr Irfaan Ali, the Government will not be deterred from pursuing this agenda.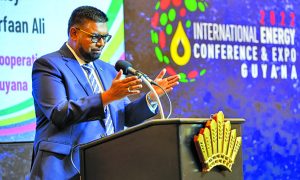 The President made this pronouncement while delivering the keynote address on the first day of the International Energy Conference and Expo being held at the Marriott Hotel. Attending the conference are President of Ghana, Nana Addo Dankwa Akufo-Addo; Surinamese President Chandrikapersad Santokhi and Barbados Prime Minister Mia Mottley.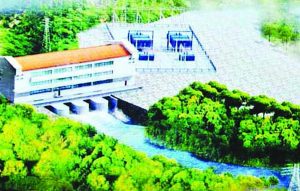 The conference has also attracted hundreds of investors from around the world. Using the platform provided as the keynote speaker, President Ali made it clear that the Government is not backing down from its ambitious energy agenda.
The President emphasised that reducing the cost of energy is imperative if Guyana is to become globally competitive. He went on to give an overview of what is on the Government's agenda to implement, when it comes to renewable energy.
"Exxon and Guyana, we're working together on developing that natural gas strategy also. So that with Suriname and Guyana, we can also effectively realise the importance of our strategic position in creating regional energy security. We've already commenced the process by investing in 13 new solar farms, three mini hydros, one large hydro at Amaila Falls and the Natural Gas Project."
"All aimed at increasing our power generation to 500 MW by 2025. Let me be clear on this. We will remain uncompetitive if we cannot address the cost of energy. We must address the cost of energy. Our Private Sector will not be able to grow if we cannot bring down the cost of energy. And we will bring down the cost of energy," he said.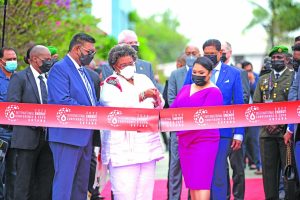 In fact, President Ali said that the aim is to bring down the cost of energy in Guyana by 50 per cent by 2024. Reducing the cost of energy also involves partnering with Guyana's neighbours, to establish an energy corridor.
"Our future framework of opportunities are built around solar, water, hydrocarbons, forests, hydrogen, hydropower and it is integrated into regional opportunities. We are not only talking about national opportunities. With Suriname and Brazil, we're already exploring the development of a new energy corridor that we can fully support and participate," the President said.
"Bringing down the cost for energy is about creating the space and opportunity for the development of a world-class manufacturing, industrial and agro-processing sector. That is how real benefits come to the people, that is how real benefits come to the country. When we can invest and create the opportunity to improve competitiveness and expand business opportunity. There shall be no turning back from this energy agenda," President Ali added.
The President further emphasised that the development of the country's energy mix remains a priority for Government, alongside the other priorities of diversifying the economy and ensuring that Guyanese are afforded quality education, healthcare, social services and the ability to retire with dignity.
For this year, the Government allocated a total of $29.4 billion to the energy sector in Budget 2022. Construction on the Amaila Falls Hydropower Project (AFHP) will start this year and is expected to conclude in 2027, even as the Government continues to ramp up spending on renewable energy projects as well as upgrades to the Guyana Power and Light (GPL) infrastructure.
The AFHP was the brainchild of the previous People's Progressive Party/Civic (PPP/C) Administration, but was shelved soon after the former A Partnership for National Unity/Alliance For Change (APNU/AFC) Government had taken office in 2015.
In November of last year, it was announced that the Cabinet granted its "no objection" for the Office of the Prime Minister to engage China Railway Group Limited to construct the 165-megawatt Amaila Falls Hydropower Project.
The construction of the AFHP will be based on a Build-Own-Operate-Transfer (BOOT) model where the company will supply electricity to GPL at a cost not exceeding US$0.07737 per kWh and where the company will provide the entire equity required by the project and undertake all the risks associated with the project.
Work is also advancing on smaller renewable energy sources, such as the construction of a 1.5 MW hydropower plant at Kumu, and the rehabilitation and upgrade to 700kW capacity of the defunct Moco Moco hydropower plant in Region Nine. (G3)