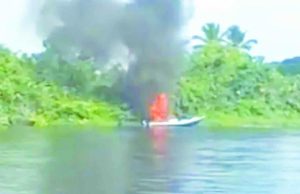 A boat burst into flames while traversing the Pomeroon River, Region Two (Pomeroon-Supenaam) on Thursday morning, but all the occupants have escaped unharmed.
The boat was captained by a man identified only as "Scarface"; he, too, escaped without injuries.
Guyana Times understands that at the time of the incident, the vessel was heading to Martindale, Lower Pomeroon.
Another boat captain who plies the route explained that he heard Scarface was trying to connect a wire to a battery onboard, and that caused a spark that ignited the entire vessel.
As the fire began to spread, all occupants reportedly jumped overboard, but were quickly rescued by another boat. Up to the time of publication, the matter was not reported to the Police.