Guyana has been described as the most exciting investment destination by Guyana Oil and Gas Energy Chamber (GOGEC) President Manniram Prashad in an investment pitch to delegates at the Houston, Texas Offshore Technology Conference (OTC).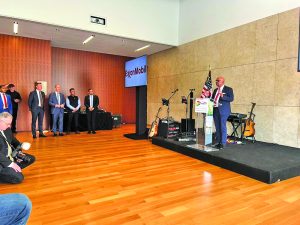 In his address to the delegates at the Guyana Night Event at the Asian Society Texas, which also included Natural Resources Minister Vickram Bharrat, Guyana Office for Investment (GO-Invest) Chief Executive Officer (CEO) Dr Peter Ramsaroop, and senior officials of ExxonMobil and the local Private Sector, Prashad spoke of the investment opportunities available.
He noted that, on a per capita basis, Guyana will become one of the richest countries in the world. This can all be attributed to the fact that the total recoverable resource of Guyana's Stabroek block to date amounts to nearly 11 billion oil-equivalent barrels.
"This is the 3rd highest oil reserve in Latin America and Caribbean Region. The discovery of major crude oil reserves off the Atlantic Coast has since made a large impact on Guyana's GDP (Gross Domestic Product) since drilling began in 2019," he explained. "Guyana has become the most exciting investment and business destination in the world. Its offshore development remains competitive in the global market, and is an attractive investment opportunity."
According to Prashad, Guyana is on the path of massive economic and infrastructural transformation. He informed the delegates that investment and business opportunities exist across the various emerging sectors, such as agriculture, tourism, industrial development, oil and gas, manufacturing, etc.
"The country will also unveil international stadium, state-of-the-art modern hotels, malls and hospitals, and other major infrastructural developments. The Government of Guyana is also placing emphasis on the education sector and capacity building. There will be a surge in demand for support goods and services in and out of the oil and gas sector," he explained.
"Guyana is set for momentous economic growth. Local and foreign investors are encouraged to reap the benefits of what the country has to offer. With the obvious wealth of resources at our disposal, the transformative development of our nation is sure. The time to visit Guyana is now."
Among the ExxonMobil officials present in the audience were Senior Vice President, Deepwater, ExxonMobil Upstream Company, J. Hunter Farris; and President of ExxonMobil Guyana, Alistair Routledge.
The OTC conference is held annually in Houston, Texas. It provides a platform to showcase the world's leading-edge technology for offshore drilling, exploration, production, and environmental protection. This is Guyana's third participation in the event.