Understanding the animal population, monitoring the types of pathogens which exists in these habitats and enhanced surveillance are key points in establishing a One Health Policy for Guyana that speaks to preparedness and prevention of future pandemics.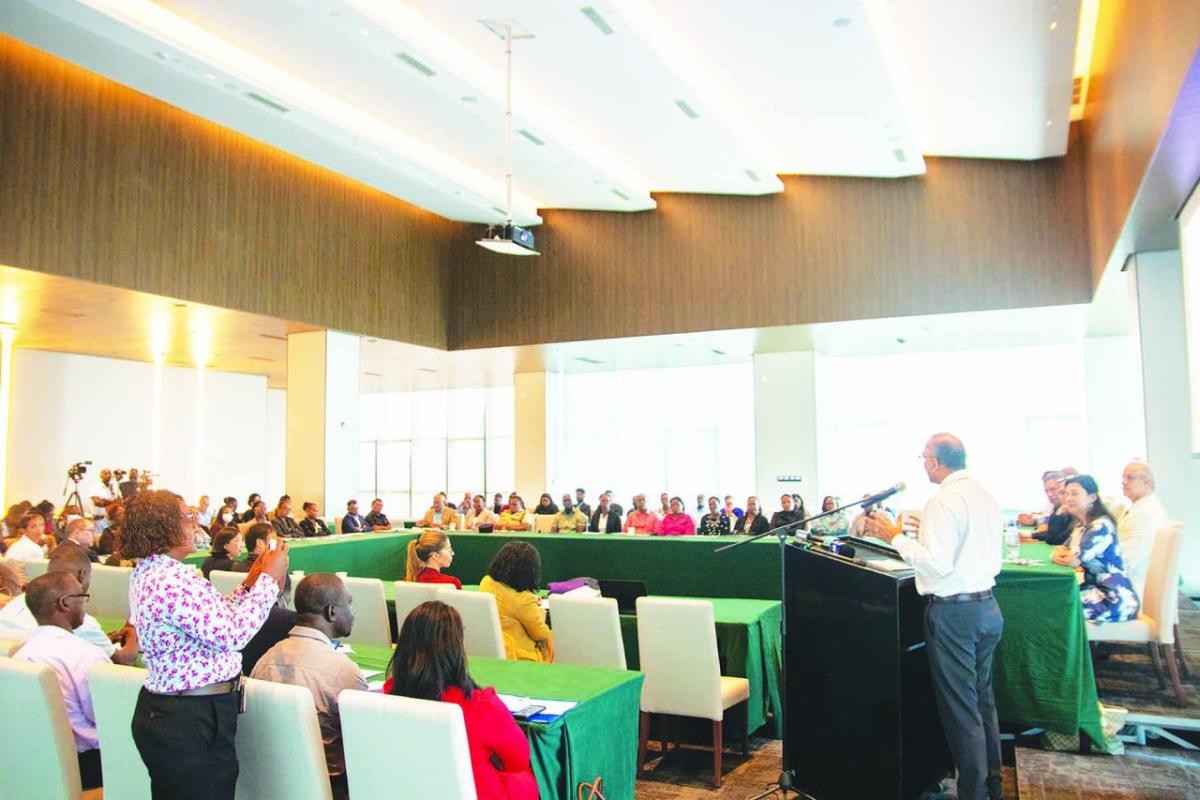 At the inaugural One Health meeting on Monday at the Pegasus Suites and Corporate Centre, Health Minister, Dr Frank Anthony identified that human health has always been approached in silo, without identifying the interrelationship with animals and the environment.
A key example was the COVID outbreak in 2019, which took some two years to rebound from and the effects still weighing in some countries.
"As human beings start to extend their activity and start encroaching more where habitats are traditionally located, we are going to see a frequency in these jumps because of the close connection. This is one of the things that many researchers and scientists have come up with, that as we get closer to each other, you're going to see many of these jumps."
He added, "We have to therefore come up with systems to be able to identify when these jumps occur. Whether it is putting in better surveillance systems to detect them so when there is an outbreak somewhere, we detect it and be able to contain it, that will be very important as we move forward."
Apart from the pathogens, he pointed to mutations which are also occurring and are often not tracked due to limited laboratory capacity – a situation which should change.
"We need to change that so that we can contribute in terms of the scientific know-how, if we have that capacity. Just about two years ago in the midst of COVID, one of the little projects we were doing was to see whether the Plasmodium falciparum would have developed resistance to the medicines that we're using to treat malaria…We need that type of capacity so that we can do genetic sequencing to track mutations."
This policy is geared at preventing and preparing for current and future health challenges at the human-animal-environment interface, through collaboration and coordination across governance frameworks of human, animal, plant and environmental health programmes.
The meeting focused on the process of developing Guyana's One Health Policy, reviewing the concept of One Health, its benefits and possibilities of implementation in Guyana and the strategic perspectives for upcoming One Health activities across the country.
Strengthen and consolidate
PAHO/WHO Country Representative, Dr Luis Codina expressed, "For us at PAHO, One Health is a framework that will strengthen and consolidate key areas of technical cooperation that we have with the Ministry of Health and the Government of Guyana, particularly in relation to pandemic prevention, preparedness and response; and also, as a mechanism to enable the country in achieving the targets of universal health coverage and access."
During the 59th Pan American Health Organisation (PAHO) Directing Council in September 2021, countries in the Region of the Americas adopted Resolution "One Health: A comprehensive approach for addressing health threats at the human-animal-environment interface", mandating PAHO to coordinate, promote, and provide technical cooperation to support countries and territories in implementing One Health.
In March 2022, the Health Ministry requested the support of PAHO, the Food and Agriculture Organisation of the United Nations (FAO), and the Inter-American Institute for Cooperation in Agriculture (IICA) to collaborate in implementing key activities to strengthen the One Health approach in the country. Shortly thereafter, the collaborating institutions engaged in a series of technical cooperation activities with the MoH, focusing on various key areas such as health surveillance, laboratories, food safety, and antimicrobial resistance (AMR), among others.
This inaugural meeting in One Health aimed to reintroduce and reinforce the implementation of the One Health approach in Guyana among key partners and stakeholders as a strategy for pandemic prevention, preparedness, and response; and as a mechanism to enable the country in its universal health coverage and disease elimination targets.
Specifically, this meeting aims to: review the concept of One Health, including its benefits to Guyana and possibilities for implementation in the country, review experiences on One Health implementation in the Caribbean, discuss strategic and policy perspectives and facilitate the process of developing Guyana's One Health Policy. (G12)