No-confidence resolution
As Guyanese eagerly anticipate word on whether they will head to the polls in the coming months, the dialogue that has begun between the two opposing sides is being seen as a welcoming sign for cooperation. This position was affirmed by the Guyana Trades Union Congress (GTUC) following a State House meeting between the Opposition People's Progressive Party and Government on Wednesday.
While hailing the meeting as a position sign, the union urged that the Constitution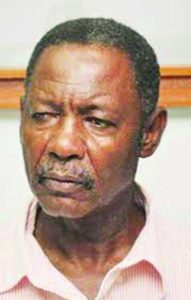 of Guyana be respected.
"Both Opposition and Government have a responsibility to ensure the day-to-day administration of the State where peace and order prevail, and the governmental functions are executed," the union body observed.
The December 21, 2018 Opposition filed no-confidence vote saw the effective toppling of the A Partnership for National Unity/Alliance For Change Government, but the Administration is holding out that the majority vote requires a minimum of 34 seats for successful passage, which is before the court. After the Government fell, the 34-majority argument was postulated by Attorney Nigel Hughes, husband of Government Minister, Cathy Hughes. Since then, Government has held onto the argument as a lifeline. This was even as the resolution was certified by Speaker of the National Assembly, Dr Barton Scotland.
Nevertheless, GTUC outlined that it is reassured by President David Granger's statement that neither the function of the National Assembly or Government, Legislative or Executive arms of Government, can be allowed to fail and that the two sides will continue to work together and engage the Guyana Elections Commission (GECOM).
GTUC said it takes note of the President's statement that Government has no intention to derail the Constitution or legislative process and the Opposition Leader was quoted in the media as saying that 'it was a good meeting so far.' The Union views this as "good news" having expressed that Wednesday's meeting was a step in the right direction.
"It has opened the door for continued dialogue, presents an opportunity to demonstrate political maturity and willingness to settle political dispute over the drawing table in a sensible manner. Both sides of the fence have an opportunity right here and now to break out of the path of pursuit of conflict instead of working for the common good," the Union stressed.
More than that, GTUC opined that this dialogue allows for future generations to see that a peaceful process and resolution of differences was pursued in the vein of interpreting the validity of the confidence vote. In this light, the Judiciary was called upon to pronounce clearly on matters pertaining to the confidence vote as the GTUC called on the Opposition to remain vigilant in keeping with its elected mandate.
Another test of political maturity
Meanwhile, Government's coalition partner, the Working People's Alliance (WPA) in a statement on Wednesday stated that the matter should be resolved quickly in the court.
"WPA is cognizant of the political consequences of the challenge by the Government side that could be read as an attempt to remain in power beyond the provision of Article 106 (7)".
According to the political party, the current situation presents "another test of the political maturity of our leaderships – one that should not end in any major political fallout". The party also said it agrees with other stakeholders who have observed that the passage of motion puts Guyana in unchartered territory since this is the first time there has been such an outcome of a no-confidence motion.
Having acknowledged that it was briefed by the Government's Cabinet sub-committee on its actions to date, the WPA pointed out that it is not surprised by the political division that has since occurred.
The group further said, "President Granger's statement that "all constitutional requirements will be met" and his assurance to "the Guyanese people that this is not a crisis which could dissolve into any type of confrontation" is very important, particularly in this fluid period of great uncertainty."