The Easter Sunday horse race meet was a success story. Owing to the COVID-19 pandemic, that event marked the return of horse racing after two years, and thousands of supporters were present at the event, which saw Santa Cruz Lady of Jagdeo Racing Stables winning top honours.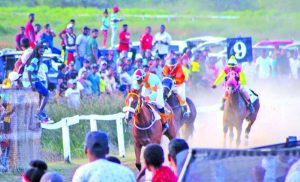 A host of sponsors made this event possible, and the organisers expressed gratitude towards these donors. The Guyana Sugar Corporation (GuySuCo); businessman Fazal Habibulla; Banks DIH; Kascon Engineering; A Sawh Mechanic Shop; Sandeep Poultry Farm; Sunil Poultry Supply; Jumbo Jet Auto Sales; AJM; K Jagdeo Contractors and Sunil Pet Shop were the sponsors of the event.
What happened at the event
The recent race meet took place under sweltering sunshine, with the feature event, which was the G Class and Lower, being won by Santa Cruz Lady of Jagdeo Racing Stables to clinch the $300,000 cash prize and trophy that was donated by Banks DIH and presented by Finance Minister, Dr Ashni Singh. Earlier, Agriculture Minister Zulfikar Mustapha was on the ground.
The pre-race favourite, Golden Dancer of Karibee Racing Stables ran out of gas as Goodwill Boy, another horse from Jagdeo Racing Stables, finished ahead.
The first race of the day, which was the L Class and Lower category, saw Red Star walking away with the first prize of $120,000 that was donated by Kascon Engineering and the trophy from Sunil Pet Shop.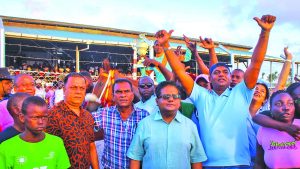 In the second race of the day, the Class non-Starter saw the pre-race favourite, Charandass living up to expectations, with a crushing win against Skittles, Big A, and Cat Eye in that order. Charandass picked up the $120,000 first-place prize that was donated by Anil Sawh and the trophy from Brian Ramsaywack and Family of Number 56 Village.
In race three, which was the three-year-old Guyana Bred horses event, Maximus walked away with the $160,000 cash price and trophy that was donated by Habibulla Farm and Butchery. Glamorous Star and Blazing Royalty were the other finishers in the top three.
Meanwhile, in race four, which was the four-year-old Guyana Bred horses event, Trump finished first and was awarded the GuySuCo trophy and $160,000 from AJM Enterprise and Jumbo Jet. Candy Boy came second in that race, while He's a Prince came third.