The European Union Ambassador to Guyana Fernando Ponz Canto has completed his tenure in Guyana, and has been hailed for his remarkable service to the country.
The official farewell ceremony for Canto was held on Monday evening at his Bel Air Springs residence in Georgetown. At that event, the EU Ambassador reflected on his journey in the country, noting that he has been through some of the most difficult times.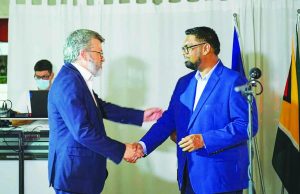 "We have gone through very difficult times in the Delegation of the European Union. We have the electoral crisis, we have COVID, I remember the 20th of March 2020 with Electoral Observation Mission left, and then we here…you will remember the feeling that we had, we were facing a complicated situation," the Ambassador explained.
He stated that he is very happy he was here to assist the country during those tough times.
"There some very tough times, where you have to take a stand, and I am very happy I was here, and I was very happy that I had the support of all my colleagues in the Delegation of the European Union, but also in the EU, to try to help this country a little to maintain democracy."
The diplomat further expressed that even as he leaves Guyana, he will continue to work with and for the country, to ensure it is equally benefiting from the initiatives of the European Union.
"As I leave Guyana, I can say that this is not goodbye, I can say this is utmost farewell. I will indeed continue to work with Guyana and for Guyana and for the European Union."
President Dr Irfaan Ali, in his remarks, related that the Ambassador has left footprints on Guyana's history that led the country on a pathway of democracy and freedom.
"We do not say farewell to someone who has left footprints that will forever be marked in our country's history; footprints that would withstand time and event; footprints that ensure Guyana remains on a pathway of democracy and freedom.
So, for us, it is not about saying farewell, is about saying to you that as you journeyed forward, know that you have left in this country footprints that will forever be cherished," he added.
The President stated that Ponz Canto has shown great professionality, strength, integrity, and fine character as the Ambassador and as a friend.
"You worked tirelessly with the Ministry of Finance in ensuring that the budgetary support in ensuring that artificial barriers sometimes were removed and in the process of accessing that financing and efficiently moving towards the implementation of projects and programmes that you ensured was realized. You brought a new approach to the work here at the European Union, one that was respectful of the country's programme but one also that sought to find solutions; not one that sought to extend barriers. Yes, you stuck to your rules and guidelines, but we knew we could have counted on your ability to find solutions," the President said.
President Ali further urged the Ambassador to aggressively continue the work that he has started in Guyana.
"We expect that this brilliant work that you started here would continue in a more aggressive way as you connect with those in head office. Know that, as we move forward, you can always be rest assured that you're leaving a Government that is committed to democracy; committed to the rule of law; committed to equity; committed to the development of all the people of this country; but, more importantly, committed to playing our role and our part in the global community of countries, not as follower [but] as a leader," Ali added.