…VP assures of action being taken on Surinamese licence impasse
In keeping with the People's Progressive Party/Civic (PPP/C) Government's commitment to support fisherfolk, over $187 million in cash grants was distributed to fisherfolk on the East Coast of Demerara (ECD) when the exercise unfolded at the Lusignan ground.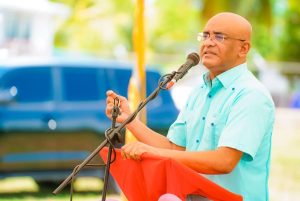 Vice President Bharrat Jagdeo was there to spearhead the distribution of the $150,000 one-off grant to the fisherfolk, alongside Agriculture Minister Zulfikar Mustapha and Local Government and Regional Development Minister Nigel Dharamlall.
Jagdeo explained that the money is to cushion them from the rising cost of living. In fact, he noted that the Government is working to uplift all citizens. He pointed out the global events that have pushed the cost of living up.
The Vice President made it clear that the Government has not just "sat on its hands" but has been making interventions to cushion the cost of living. According to him, the provision of more disposable income will also help the economy.
"I was in Berbice, where they lost nearly 4000 jobs in the sugar industry alone. We employed 4000 people part-time there. That is $40,000 a month, for 10 days work. They would earn $160 million, the 4000 people."
"Multiplied by 12 months in the year, that's over $12 billion. Back into the Berbice economy. So that will start getting things going. The markets. The shopkeepers. People can buy fish because they have a disposable income now," Jagdeo explained.
Trickery
Touching on the grant being distributed, Jagdeo related anecdotal experiences of persons trying to trick the system by making false claims for compensation. He noted that when President Dr Irfaan Ali first announced the fishing grant, they had been aiming for 5000 people.
"We got 10,000 now. And some who were farmers, turn fishermen now. They were on the farmers' list, now they on the fishermen list. So, we want to help people. That's why it took a while too. We were trying to go through the verification. We put up the names at the NDC and we said, you object to the people there if you see someone who was not a fisherman."
Over 700 persons at the Lusignan ground were scheduled to collect their cheques. Additionally, there are others whose award of the grants have been delayed due to lack of an ID card. However, Jagdeo assured them that they will eventually get the cash grant.
Only last week, fisherfolk in Region Six (East Berbice-Corentyne) began receiving the Government's $150,000 one-off cash grant – a fulfilment of a commitment made by President Ali back in May.
That exercise was also led by the Vice President, at the Port Mourant Community Centre Ground and the Skeldon Community Centre Ground. Hundreds of people had been in attendance, with more than 1600 fisherfolk stretching from the East Bank of Berbice to the Corentyne River expected to receive the grant which will amount to $153 million.
Caricom
Meanwhile, the Vice President also disclosed that the Government will soon write Caricom seeking assistance with resolving the ongoing issues faced between Guyanese fishermen and Surinamese authorities.
The matter of Suriname's harassment of Guyanese fishermen and the Dutch-speaking republic's continued refusal to grant licences to them, has been a topical issue. Following the high-level meeting in Guyana during August 2021 between President Ali and Surinamese President Chandrikapersad Santokhi, the two leaders had issued a joint press statement indicating that the age-old issue of licences for Guyanese fisherfolk to operate in Suriname's territorial waters would be addressed.
These fishermen operate from the Corentyne coast and have to use the Corentyne to get access to the Atlantic where they get most of their catch. The Corentyne River is considered Surinamese territory. Currently, the licences are issued to Surinamese businessmen at US$100 per year and rented to the Guyanese fisherfolk at US$3000 annually.
About 150 boats operate from the Number 66 Fisherman's Co-op Society, thus providing direct employment for about 800 fishermen. Additionally, some 200 persons are employed in providing services which include transportation, fish vending and repairs to machinery and equipment. (G3)