More than 3300 patients at the Georgetown Public Hospital Corporation (GPHC) have received financial assistance from a programme under the Health Ministry, amassing $1 billion over the past three years, according to Dr Frank Anthony.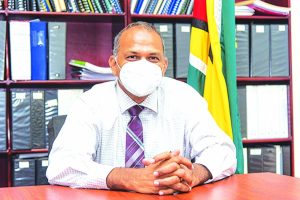 The Health Minister in a recent COVID-19 update said that over $1 billion has been spent on patients who had requested financial assistance from the Health Ministry for their medical expenses. Under the programme at the Ministry, those requests were approved so that patients could pay for their medical procedures.
"For many years now, the Ministry has put together a programme to assist patients who cannot afford some of these procedures, financially. We have a little department within the Ministry here that would oversee that programme so anybody requiring such assistance can be referred to that department. There are some requirements, of course. This has been something that we have been doing for quite a few years," the Health Minister said.
Dr Anthony said that 804 patients would have received financial assistance amounting to $290 million, in 2020; 1518 patients in 2021 for the sum of $445 million; and more than 1006 patients in 2022 totalling $292 million.
According to him, many of the patients applying to the programme for assistance were patients requiring some type of cardiac treatment, and in more severe cases, cardiac surgery in the year 2020. A number of these surgeries were done at or through the Caribbean Heart Institute (CHI) at GPHC.
"The Government, over the years, has built a relationship with CHI where we give them space in the Georgetown Hospital and they have been working within the Georgetown Hospital, but the Government would have to pay for those services," he said. "In 2020, we did quite a number of cardiac surgeries at CHI or through CHI and a lot of people would have benefited from this."
Just recently, seventy-nine haemodialysis patients would have received cheques valued at $600,000 to help subsidise their treatment expenses after the Government's dialysis treatment initiative was introduced.
This year, Dr Anthony noted that hearing aids would be available to patients who require them, free of cost.
"A new feature, this year, we have also started to help people who require hearing aids. Previously, a person who had to acquire a hearing aid, they probably had to spend a minimum of 60,000 Guyana dollars. Many persons could not afford that, so we have removed the fees. The Government is buying those earring aids and making [them] available to the patients," he said.