By Shemuel Fanfair
Of the 4763 sugar workers who were made redundant by the Guyana Sugar Corporation (GuySuCo) as part of that State entity's restructuring programme, more than 350 who formerly were attached to the Wales Estate did not receive severance payment on Friday, as others across the industry did.
This was revealed by former Agriculture Minister, Dr Leslie Ramsammy after a careful investigation into the severance payout to Wales Sugar Estate workers.
The National Assembly had, in early November, given approval for almost $2.5 billion to be released to cater for the remaining severance due to 4,723 sugar workers.
Government had, earlier this year, opted to pay some workers half of their severance, with the remaining half to be paid in the latter part of the year.
The Department of Public Information (DPI) announced last week that Government had kept its promise to pay out the remaining fifty percent of severance to those receiving amounts in excess of $500,000 by the end of 2018.
In fact, Prime Minister Moses Nagamootoo had given all assurances that the Wales workers, who previously were prevented from receiving severance pay by the Guyana Agricultural and General Workers Union (GAWU)-filed court action, would receive their outstanding benefits. He also said, via DPI, that Government would respect the ruling of the court and pay interest of between four and six per cent on the outstanding amounts.
"Of course we recognise that there is an order from the court which says we pay interest on the amount due, and so we will be paying the interest, which comes up to about $85 million. We are not there to deny the sugar workers…we had to be able to ensure that we have the money, and not dig a deeper hole," he stated late last month.
Contrary to these assurances, Guyana Times  has recently been informed that several Wales cane harvesters involved in that very court case were not paid their severance, which has been paid to their other ex-colleagues.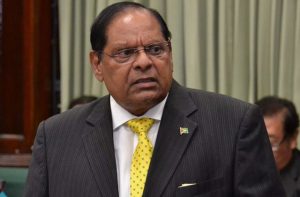 "We ain't get no severance; we really punishing. Right now I only getting two-day work," a former sugar worker disclosed. A father of three, this worker is one of over 300 workers involved in the court case against their former employer, in which it is contended that GuySuCo was acting unlawfully by compelling employees to travel 22 miles from their point of origin to work at Uitvlugt on the West Coast of Demerara. Accordingly, the workers refused to take up employment at Uitvlugt before the Wales Estate ceased operating in December 2016. As such, they were left both without jobs and severance, as GuySuCo's timeframe in which they were told to make a decision had passed.
President of GAWU, Komal Chand, has confirmed what other sources have relayed to Guyana Times, having noted that, indeed, those former Wales Estate workers have not been paid.
"They did not pay them despite [the Prime Minister] saying they would receive their pay. I know that they paid some of them, but those were the ones who had to get the other portion of their severance," the official disclosed on Sunday.
A separate source familiar with the payout revealed that the payments for the unpaid set of Wales cane harvesters have already been calculated, though it is unclear why the ex-workers remain without their legally entitled benefits as outlined in the Termination of Employment and Severance Pay Act (TESPA).
In a DPI report on Friday, the entity said it visited Wales and Enmore Estates, where former workers turned out early. At the Enmore Community Development Ground, several welcomed the receipt of severance payments.
Clifton Nedd, a retrenched worker, "expressed his satisfaction" with the payment, noting that it came just in time for the holidays. "Well, I feel very good, because I was waiting a very long time, and now everything happened," he said.
"I am happy about it, because when they paid the first half a lot of people comment about it, but I say that every disappointment does be for a good," said Marlene Licorish, who has started selling homemade chips to make a living.
Retrenched Enmore Estate worker Sheldon Younge told the Department of Public Information that, following the closure of the estate, he has been operating his own business.
Other workers were quoted as saying that, since the closure of the estates, they have been adjusting, with some of them seeking employment with private companies.
Numerous former workers were gathered outside the Wales Estate's administrative building, including Joseph Persaud, who "welcomed" the final payment and said he was currently doing cash crop farming. Ramphal, who had been employed with GuySuCo for 23 years, said he would still like to get into farming, despite already finding work in general construction.
Some of the former workers disclosed that they would be investing their payouts. Rohan Sugrim from Wales Estate, who had been with GuySuco for twelve years, said he would use some for the Christmas holidays, and "invest some" in the New Year.
DPI's report claimed many also benefited from alternative livelihood programmes designed to equip them with skills to seek employment in different areas, such as sewing, cosmetology, caring for the elderly, catering, mechanical and electrical works, and small business management.
However, Guyana Times has been reporting that many of these very workers are finding great difficulty in obtaining consistent and well-paying employment.