By Shemuel Fanfair
As the world advances into its nineteenth year in the 21st century, many urban areas in Guyana are still receiving less than desirable water service, with the Guyana Water Incorporated (GWI) having disclosed earlier this week that 73 per cent of all consumers receive 24-hour service. The GWI's Performance Review for 2018 estimated its customer count at 178,254 and a simple calculation would show that 27 per cent of this number is 48,128.58. This suggested that over 48,000 GWI customers are receiving water services on a scheduled basis.
Responding to questions by Guyana Times as to why urbanised areas such as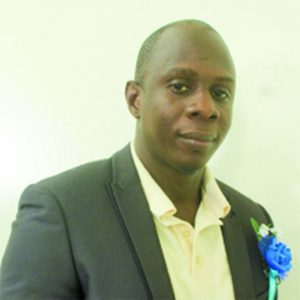 Pouderoyen, West Bank Demerara get scheduled water service, Well Maintenance Manager Dwayne Shako revealed that the current water wells and treatment facilities cannot cater to the amount of persons now living in the various communities. He stressed that GWI will be working this year to increase the amount of consumers receiving 24-hour service.
"The issue with Pouderoyen is the same issue we face in Covent Garden, Grove (East Bank Demerara), Better Hope, Mon Repos, Port Mourant (East Coast Demerara), that we're not able to distribute 24 hours. It's basically the demand is more than the supply. The areas have grown," Shako confirmed on Monday last.
Members of the media were told that the areas with an expanded population have plants that run out of water every five to six hours and Shako noted that that is also happening at central Ruimveldt, East and West Ruimveldt, Roxanne Burnham Gardens and Gyhoc Park in Georgetown. "In terms of Pouderoyen, they are digging another well that will be able to supply the plant with additional source and then we'll modify the infrastructure of the plant to be able to deliver a 24-hour service. Once that well is completed, we'll also be able to move some of the Good Fortuin customers and that will be able to deliver 24-hour service to Pouderoyen," Shako outlined.
GWI's Managing Director, Dr Richard Van West-Charles revealed that Government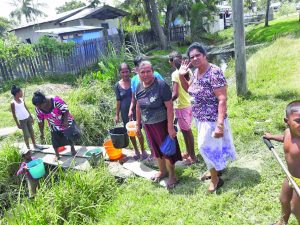 has already approved allocations to develop water facilities that will cater to the West Demerara areas of Pouderoyen, West Minster, La Parfaite Harmonie and Lust-en-Rust which according to him, will receive a better supply in 2019.
"The contractor has already mobilised his rig at West Minster. When he's finished there then he will move to Pouderoyen," Van West-Charles indicated.
At GWI's end of year press conference, it was announced that GWI will acquire two rigs to reduce some of the allocations expended in procuring contracted personnel to carry out such works. The authority also disclosed than more than 3000 residents of Sophia and its surrounding communities benefited from improved water supply with the completion of the ground storage tank at Sophia.
Consistent access to water has been difficult at certain intervals during 2018. In October of last year, Guyana Times reported that thousands of West Coast of Demerara (WCD) residents were coping for at least weeks without potable water supply and some even had to source water from nearby trenches. This had disturbed regular chores and other daily tasks. Four major villages – Meten-Meer-Zorg, Zeelugt, De Kinderen and Tuschen – were all affected.
In Zeelugt, some persons had to walk about the streets with their buckets to obtain water from the trenches and some were seen utilising bicycles to transport water to their homes for washing and cleaning. In Vergenoegen, some complained that they were initially receiving a 24-hour water supply but this reduced to consumers dealing with a scheduled service from 05:00h to 12:00h noon and from 17:00h to 19:00h.
At present, residents of Ruimzeigt and Pouderoyen told Guyana Times that even in 2019, they are receiving an inconsistent water supply. It was explained that Ruimzeigt's service is discontinued from 10:00h and returns at 18:00h while for Pouderoyen, the services is stopped at 13:00h, returns at 17:00h, only to be discontinued once again at 21:00h before returning the following day.