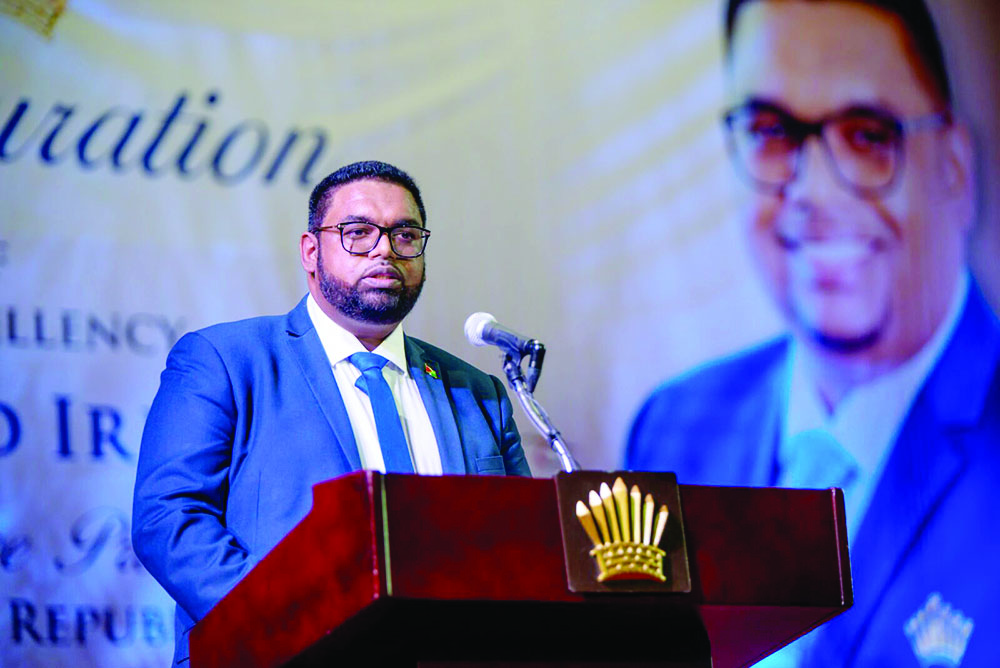 As part of the PPP/C Government's ambitious plan to make available over 50,000 house lots over the next five years to citizens, the Housing and Water Ministry has commenced steps to access 6356 acres of lands to help satisfy this demand.
In addition to other areas in the country, the lands are being sought between Golden Grove and Peters Hall on the East Bank of Demerara (EBD) and between Ogle to Cummings Lodge on the East Coast of Demerara (ECD), for the development of additional housing schemes.
This information was disclosed recently by President Dr Irfaan Ali during a recent speech detailing his Government's first 100 days' achievements and future plans for development.
"Housing is a basic need which we intend to satisfy. We have begun to prepare the groundwork to deliver on our promise of 50,000 house lots over the next five years…We want to ensure affordable housing for all," he promised.
According to the President, land clearing works have already commenced for new housing schemes at Mon Repos and Cummings Lodge. He further noted that the "Dream Realised" housing drive has provided legal titles to hundreds of Guyanese.
In terms of potable water, the President said that unserved areas such as at Lust-En-Rust are now receiving water supply for the first time. Also, water supply has been restored to residents of Red Village and Onderneeming and a new well has also been installed at Kurutuku, in Region Seven (Cuyuni-Mazaruni).
He noted that the Government's housing programme will create tens of thousands of jobs in the construction and home improvement sectors.
The President highlighted that the construction sector will be key to driving growth in Guyana's non-oil sectors, and for this reason, the Government has made several critical interventions to facilitate this growth.
"The cost of housing construction is expected to be lowered with the removal of VAT on building materials. Homeowners are also being provided with interest relief. They will now be able to reclaim, from their taxes, the interest on mortgages up to a ceiling of $30 million. Persons will now be able to borrow an additional $2 million (up from $8 million to $10 million) at low-interest rates," he explained.
He added that the availability of stone is a vital input into the construction sector but supply constraints are affecting production. On this basis, he instructed that taxes on imported stone be waived so as to allow for the availability of adequate supplies.
Meanwhile, the President also detailed his Government's plan to implement a transformative infrastructural development programme.
He reminded that the PPP/C Administration has in the past created a wave of impressive infrastructural projects which transformed this country's landscape. These projects, he outlined, included the construction of the Arthur Chung Conference Centre, the National Stadium at Providence, the National Aquatic Centre, the Marriott Hotel, the Berbice River Bridge, the extension of the country's main road networks, and the creation of a new airport at Ogle.
"The second wave of modern infrastructural transformation is unfolding", he declared, adding, "over the past 100 days, my Government has begun to lay the groundwork for transformational infrastructural change."
Providing a brief update on some of the key infrastructural projects in the pipeline, he highlighted that the Government has: finalised the location for and advertised invitations for Expressions of Interest for the new Demerara River Crossing, commenced discussions with the Republic of Suriname about a bridge link between Guyana and Suriname and has taken steps to reformulate plans for the construction of a four-lane road from Ogle to Haag Bosch.
President Ali also outlined that the Government is in the planning stages for a road link between the new Demerara Bridge crossing and Parika.
He further noted that the Government is hoping to begin work on a 250 MW gas-to-shore project as part of his Administration's plan to have a mix of energy-generation projects, including hydro and solar power.
Dr Ali had previously disclosed that Government was exploring various financing options to undertake these massive infrastructural development projects.
Citing the Government's housing drive, he had said that this would require an investment of about US$500 million to be completed within the timeframe of five years. He explained that this sum would be needed in order to put the necessary infrastructure in place so as to open up new lands and to build new houses.
The $3 billion allocated in this year's budget to the housing sector is being utilised for various activities, including infrastructural development in existing housing schemes, land preparation for new housing schemes, and land acquisition.
According to the Government, young professionals, individuals with an immediate need, and persons with adequate disposable income will be facilitated to commence construction. Private developers are also included as part of the comprehensive housing strategy.