Ranks of the Customs Anti-Narcotics Unit (CANU) this morning intercepted some 3.3 kilograms of cocaine in packages destined for Miami, United States of America (USA).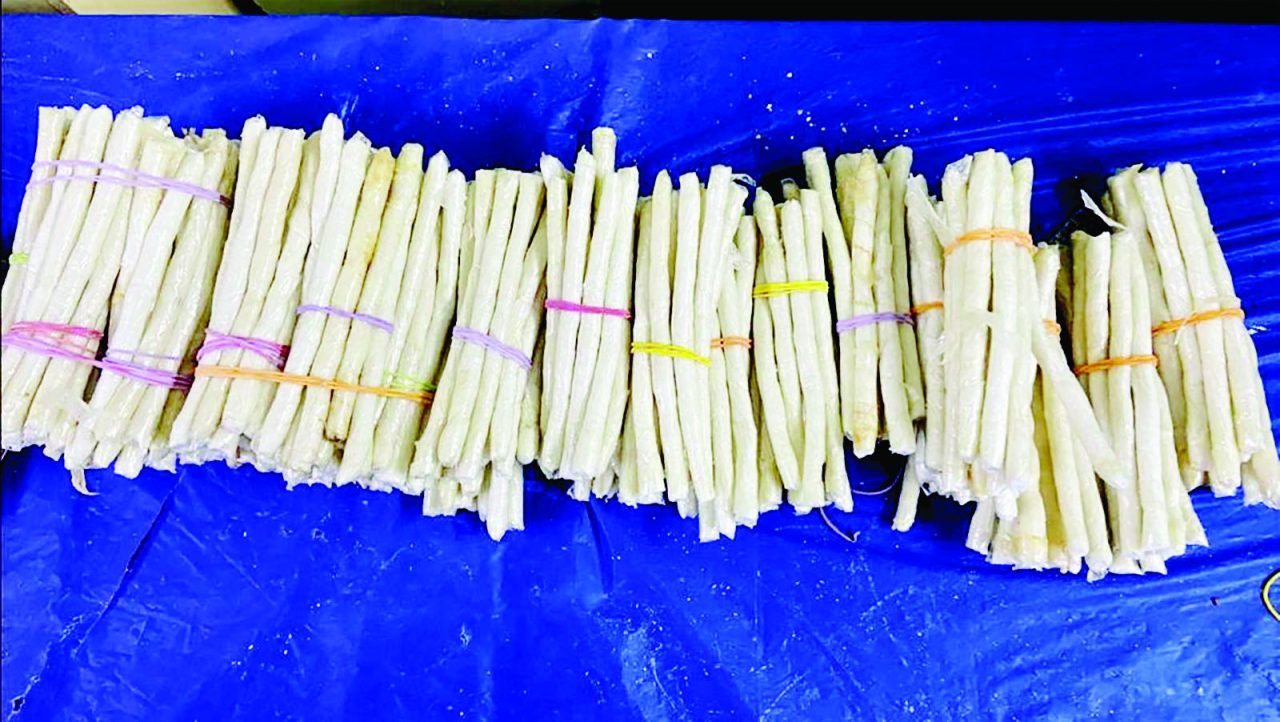 The bust was made at a cargo shed at the Cheddi Jagan International Airport (CJIA).
CANU, in a statement, said it unearthed 280 pieces of plastic-wrapped pencil-shaped parcels of suspected cocaine hidden in the bones of salted fish intended for export.
A total of six persons are currently in custody pending investigation.
On March 1, narcotics Police in Jamaica unearthed 139.4kg (306.5lbs) of cocaine in containers shipped from Guyana which contained rice and logs.
Reports out of Jamaica stated that the illegal substance was found in the containers at the Kingston Freeport Terminal Limited (KFTL).
According to reports, the drug was found in two of six transhipment containers that arrived on the island from Guyana.
One container packed with logs of lumber was found to have a box with parcels of cocaine while the second had multiple duffle bags that also contained parcels of the illegal substance.
The consignment was destined for Haiti and China. A senior law enforcement official has since said that an investigation has been launched locally since from the records reviewed, the containers were cleared by customs for shipment.
On February 20, a 23-year-old outgoing passenger at the Eugene F Correia International Airport was arrested after she was busted with a quantity of narcotics in her vagina. After being busted, the Barbados-bound woman also admitted that in addition to the drugs in her vagina, she had also swallowed several cocaine-filled pellets.
On January 27, CANU found a box containing locally-made snacks and concealed cocaine at Eugene F Correia International Airport, Ogle
CANU ranks had found some 534 grams of cocaine in a package of local snacks which was destined for Brooklyn, New York, USA, on Wednesday last.
It is alleged that 30-year-old Pathrina Pilgrim of Lot 2 C North Road, Bourda, Georgetown, had attempted to ship the package abroad.
The Customs Anti-Narcotics Unit (CANU) has said the box was intercepted before it was loaded onto a flight at the Eugene F Correia International Airport, Ogle.
The box, which contained packets of coconut biscuit, mittai, chicken foot, and a packet of uncooked vermicelli, had the cocaine wrapped in carbon and concealed in a false wall at the bottom.