The Guyana Fire Service (GFS) has recorded over 700 fires already for the year, but this number is a reduction when compared to the statistics of that same period for 2018.
This was revealed by Divisional Officer of Operations for the GFS, Gregory Wickham during the Fire Prevention Week activities at D'Urban Park on Friday.
"To date, we would have seen a deduction in the number of fires. We have, for this year so far, 700 plus fires. Last year, we would have gone over that by about 150 so indeed, there is a reduction," Wickham informed.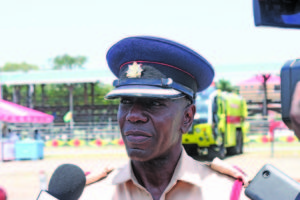 Speaking on the types of incidents they would have analysed so far, residential fires topped the list, followed by grass fires. During the dry season, careless dumping of lighted materials, such as cigarette ends, would have contributed to these events.
"We had a whole lot of those fires which were residential and then coming in the second position would have been grass fires or what we call rubbish fires. When the place was very hot, for some reasons, persons were carelessly disposing of lighted cigarette ends which would have lent to these grass fires," he conveyed.
For Fire Prevention Week 2019, D'Urban Park was transformed into an informal learning setting, where stakeholders were educated about the dynamics of fires and the functions of the fire service.
Fire tenders and scores of firefighters were present at the site, ready to give advice. On display were a wide selection of tools and safety gears which are used by the GFS. While some stakeholders were surprised by the degree of effort it takes to carry out these operations, some were thrilled at the experience.
According to the Divisional Officer, these activities help to lower the alarming figures.
"It would help us in our stats first, and then when we get the understanding, we do open opportunities for persons to do investigative work so that we'd be able to put in place systems to prevent reoccurrences of those types of fires."
Members of the public and school-aged persons were briefed on practices which they should avoid on a daily basis.
"Participating in those events, you learn a whole lot on firefighting and fire prevention. The purpose of this fair is to capture a wider cross-section of persons, our students especially and members of the community," Wickham insisted.
Last April, the "dry spell" experienced during that time had resulted in approximately 48 bush fires within the township of Linden, Region 10 (Upper Demerara-Berbice) community. The fire department had issued warnings to members of the community to desist from lighting bush fires.