…bodies found bound, tortured
Police are searching for clues as they investigate the discovery of two bodies at a resort on Number 63 Beach, Berbice.
Dead is 71-year-old Vivekanand Narpatty, who was discovered on the floor in a part of the main building of the Sun Splash Hotel and Resort.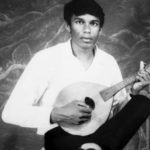 Police, in a release, said the businessman owned and resided at Sun Splash Holiday Beach Resort, which is located at Lot 110 Number 63 Village, Corentyne. The body of the other man found was unidentified and is believed to be that of one of his employees. According to Police, the duo was murdered sometime between December 19 and 27.
On Friday at about 11:20h, the bodies of the two men were discovered on the second flat in the balcony area. This newspaper was told that relatives visited the resort after several telephone calls to the overseas-based Guyanese went unanswered. According to a relative, upon arrival, persons realised a stench was coming from the building and this prompted them to call the police. Narpatty arrived in Guyana on December 16.
Narpatty's body was found with two toes from his left foot severed and the unidentified male was found with both hands tied behind his back onto a post on the balcony and the left foot completely severed from the ankle.
Following the discovery, the bodies, which were found in an advanced state of decomposition, were taken to Bailey's Funeral Home awaiting a post-mortem examination.
Investigators believe that the men were tortured before being killed. The two bodies were found in close proximity.
In May Narapatty had reported that he had been robbed on several occasions when he came to Guyana. He had reported that he was robbed at knifepoint on more than one occasion while in Guyana.
Over fifteen years ago Narapatty opened the Sun Splash Hotel and Resort but the business never did well. He subsequently closed operations and went to Canada but returns frequently. While here he usually opens the place for business.
Previously, he had reported that he was robbed more than ten times while visiting Guyana over the past four years. This newspaper was told that the businessman and his relatives were in court for a property dispute. This most recent visit, this newspaper was told, was to renovate the resort.