Ocean View Hotel Scandal
…this amounts to criminal conduct by APNU/AFC – AG
APNU/AFC associate Wilfred Rambarran is demanding rent for the Ocean View International Hotel which has been converted into the Infectious Diseases Hospital. He contends that he is the owner of the building, and not the Government of Guyana.
Even after expending AT LEAST $1.6 BILLION to refurbish a flood-prone building into the health facility, and then Government issuing Notice of Compulsory Acquisition, Rambarran is claiming that the APNU/AFC has failed to properly compulsorily acquire the property in accordance with the Laws of Guyana.
According to Rambarran, in a lawyer's letter to the new Government, he is owed millions of dollars in rent. The letter, dated August 6, was sent to Attorney General Anil Nandlall and Health Minister Dr Frank Anthony by Rambarran's Attorney, R. Satram of the Chambers of Satram and Satram.
Rambarran claims that although the previous Government issued a Notice of Compulsory Acquisition for the former Ocean View Hotel, he believes it is of no effect, because compensation has not been discussed or paid.
The Granger-led caretaker administration had initially agreed to pay some $13 million per month to use the facility for a period of 12 months, but then later issued a Notice of Compulsory Acquisition of the hotel.
Rambarran is claiming that the then Government never engaged in negotiations to purchase the hotel. Moreover, compensation has not been paid or assessed.
This proprietor has informed the new Government that his property is valued at more than $2 billion, and he is demanding payment of all arrears of rent due in 14 days.
Contacted on the matter, Attorney General Anil Nandlall has said that, from all indications, without parliamentary approval, hundreds of millions of dollars were drawn from the Consolidated Fund for the project.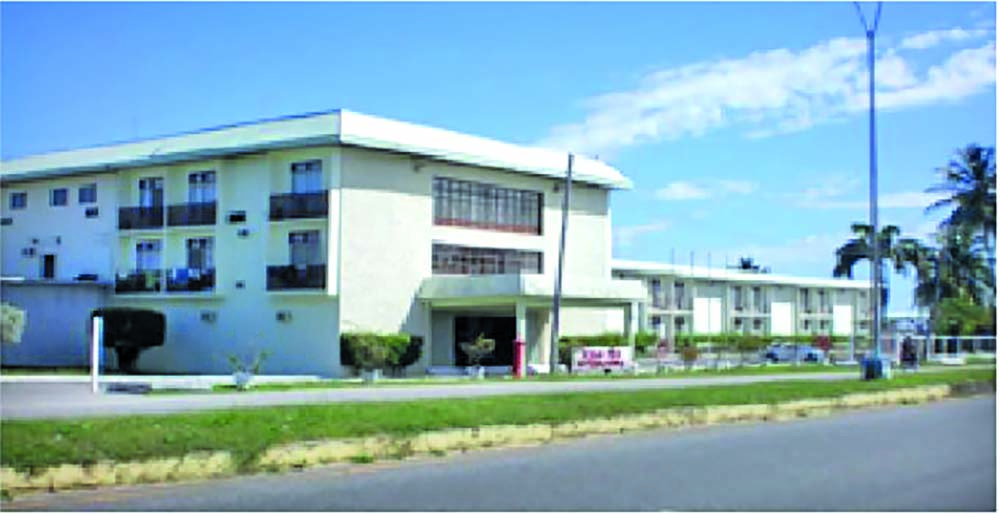 "That is a clear violation of the Constitution of Guyana and the Fiscal Management and Accountability Act. A deeper probe must also be embarked upon to enquire whether the monies so expended do not also amount to criminal offences, including misconduct in public office," the AG has said.
He noted that $1.6 billion was apparently spent on a property that is not even owned by the Government, as the lawyer's letter has indicated.
"This must amount to criminal conduct. The nation was led to believe that this was State assets, now it is being revealed that it is apparently private property. To say that it boggles the rational mind is to put it most mildly. Of course, these are only my preliminary remarks, I am sure the Government will have a lot more to say about it in the next few days," the AG added.
The former Granger Government embarked on transforming the flood-prone building into a facility to house COVID-19 patients amidst much criticisms, especially since the Government was in caretaker mode. In fact, the details surrounding the deal were kept secret from the public. It has been revealed that over $1.6 billion was spent just to renovate the building.
In fact, the former Director General under the APNU/AFC Coalition, Joseph Harmon, had stated that the Government had acquired the Ocean View Hotel property through a compulsory order.
"This notice is made pursuant to paragraph (2)(a) of the Direction by the President under the Public Health Ordinance. Cap.145, and published on the Gazette, Legal Supplement- B, 16th March 2020," the Order stated.
Further, Harmon was reported as saying that the facility would be set up for the long term. "Going forward, we may not have pandemics, we may have epidemics and so on; but going forward, that is going to be a facility for this purpose," Harmon had said.
The facility was officially commissioned on July 30 by caretaker president Granger – two days before an election declaration was made and Dr Irfaan Ali of the PPP/C was sworn in as President. But even at the time of its commissioning, the hospital was nonfunctional. At the commissioning, Granger claimed the facility was in receivership.
"This used to be a hotel. The person who built the hotel was heavily indebted to the banks, and my understanding is that it is in receivership. In other terms, we don't have a bottom line, and the Minister of Public Health and the Minister of Finance are quite aware of the level of expenditure, and Cabinet is convinced that the expenditure is justified," the caretaker Head of State has stated.
However, newly appointed Health Minister Dr Frank Anthony on Wednesday described the Infectious Diseases Hospital as a total disaster, since much work still needs to be done to the facility before it commences operating, or starts taking in patients.
While the new hospital was expected to relieve the burden of other public health facilities in the country, Dr Anthony pointed out that the facility was commissioned as a "shell", and without any structure in place.
"This hospital that was recently opened is a total disaster, because it's just a shell, and we'll have to take a team in there and see what we'll have to do to get it up and running," Dr Anthony told reporters on Wednesday after he was sworn in by President Ali.
Currently, there are neither medical equipment nor furniture in the building, nor has staff been assigned. Guyana Times was previously told that the Public Health Ministry was transferring medical equipment from other smaller health facilities that were established to treat COVID-19 positive cases.
According to the new Health Minister, at a minimum, about 20 doctors are needed for the facility, along with technicians and other staff.
"We have a shell, and if we are going to be able to utilise that facility, then we'll have to do some more renovations to put in these things like oxygen, centralised suction, and all of that. Plus, we'll have to buy all the equipment, like beds, ventilators, consumables and a whole host of things…What we have there right now, a person sick with COVID cannot go to that hospital, because there is nothing. So, to get that up to speed, we'll have to do a lot more work," Dr Anthony has said.