By Romario Samaroo
The fourth annual Star Party Rentals 11-Stage Cycling ended in emphatic style as Andre "Padlock" Green outsprinted a three-man pack to take the feature 35-lap School boys and Invitational race at the inner Circuit of the National Park, Thomas Lands.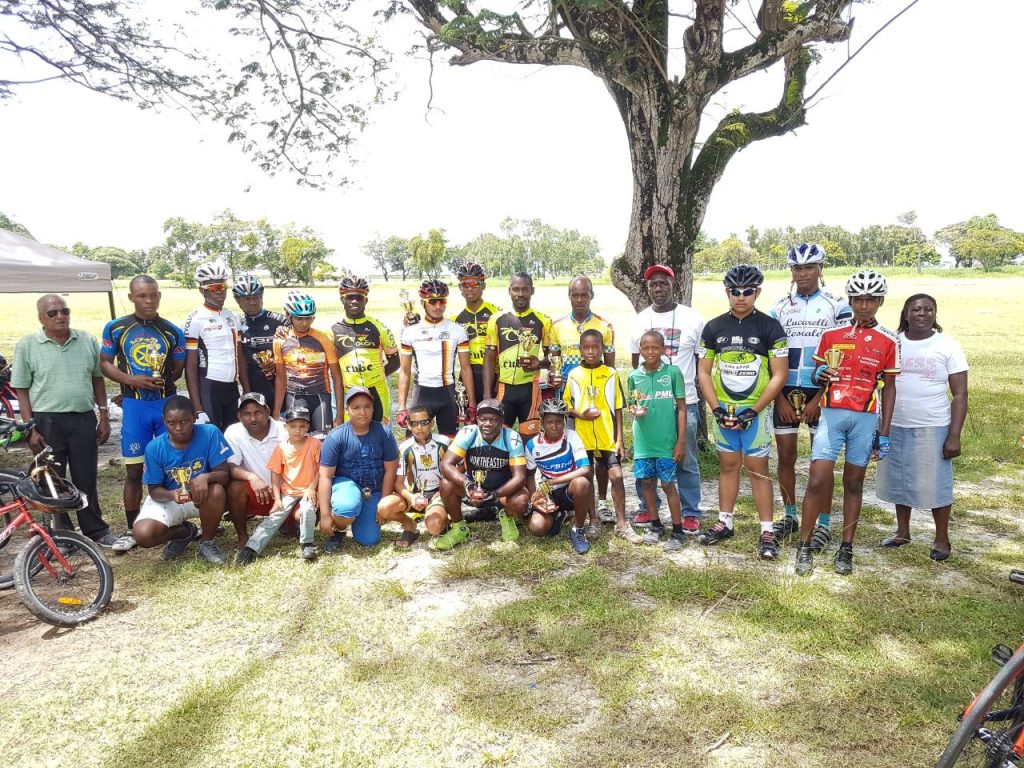 "Padlock," who rides for the Berbice based team, Trojan finished in a time of one hour 15 minutes and 38 seconds (01:15:38) which allowed him to edge Evolution's Paul Denobrega by a hair line. The two riders were also in contention with Cocos' Jamaul John who was not given the chance to break past the two wheelsmen.
The sprint for the top spot began almost half way of the entire race with the three-man leading pack almost having a lead of nearly a lap over the chasing pack.
In fourth position was Deeraj Garbarran while Hamza Eastman and Alonzo Ambrose completed the top six in that order.
In the other events, David Hicks, also out of Berbice won the Boys and Girls three lap 12-14 year old race ahead of Jonathon Ramsuchit and Brandon DeNobrega in second and third respectively. The two lap race of the BMX boys six to nine years class was won by John Nile with Ajani Cutting and Antone Vandenburg finishing second and third respectively.
Junior Niles once more took the top spot in the Veterans under-50 five lap affair as he was followed by President of the Guyana Cycling Federation Horace Burrowes in second and Leer Nunes in third. Niles had completed the five laps in a time of 11 minutes and 30 seconds.
Meanwhile, Kennard Lovell won the Over-50 five-lap race with Linden Blackman trailing in second.
In a time of 23 minutes and 45 seconds, Briton John won the 10 lap race in the Juvenile category. Curtis Dey took the second spot while Nigel Dugid finished third. Ryan Canterbury won the Mountain Bike race, a five lap sprint, with Stephan Gobin taking second place.
Speaking at the end of the race, National Cycling Coach and organizer of the event, Hassan Mohammed took a short time to thank the sponsor for maintaining his promise and related that the Managing Director of Star Party Rentals, former National Cricketer Lennox Cush is a fan of cycling.