Local ruggers got a taste of competition last Saturday, when the Guyana Rugby Football Union (GRFU) hosted a one-day tournament.
It was a day filled with Rugby action, climaxing with an enthralling final between the Panthers Rugby Football Club and the Police Falcons Rugby Football Club. The end result was that the Panthers walked away with all the spoils after a 14-7 encounter.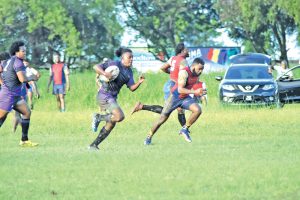 After Osei McKenzie got the first points on the board for the Panthers, and Godfrey Broomes had two conversions and a try to extend the Pathers' lead, Shawn David replied for the Falcons, but his collaboration with Odida Douglas wasn't enough for a win.
Doing an assessment of Saturday's events, Panthers' Rondel MacArthur said he was quite impressed with the progress the local players have been able to make, especially in anticipation of international competition returning in early 2022.
"It was a really good game today. I think the guys them actually bounce back after the two weeks where(in) we had some hiccups and we lost, but going forward, we have some other international tournaments coming up in February, so I think the more rugby that all of us play, is a good achievement or accomplishment for all of us to progress," MacArthur shared following the final.
"Given that a lot of persons out there didn't play for two years, they're now getting their bodies back accustomed to the knocks, getting up their fitness and stuff. So, I guess with more games, they'll improve," he continued.
From a club perspective, MacArthur noted that the Panthers have been looking into the possibility of scouting young talent in order to fill an existing gap.
"Actually…we're looking to bring in a lot of youths. A lot of the elderly guys have now passed that stage. It's a building phase, but with more games, we'll get there. We have some guys that have migrated, but we're trying to work around it, given that the weather holds up," the MacArthur has said.