By Jemima Holmes
"At first, being in this position, it made me weak, until I was able to overcome all the barriers of being a victim of your own self-esteem. Until I actually broke that barrier and started growing from it, that's when I actually started participating in road races, from 2015."
Once in a while, we come across an individual who is so purpose-driven that we cannot fathom how a person who has faced so much adversity can have such a positive outlook on life. Such persons are truly the wonders of the world.
Vlyssess Edwards is one that can fall right into that category, and based on his aforementioned words, it is easy to imagine the level of confidence Vlyssess exudes.
Vlyssess Edwards is one of Guyana's few para-athletes, and is of Indigenous descent. While some may look at the combination and think, 'How does he do it?' Vlyssess makes it look easy-peazy; and, in fact, credits sport as his motivation.
"This has made my life a great one, and the impact that it made, it's more than just a scenery for me. It's more like motivation to other persons who're in a wheelchair or (experiencing) different forms of paralysis. And in this case, in my position, it has shown me a better, logical way of being fit, focused, and a lot of things in that direction," Vlyssess shared.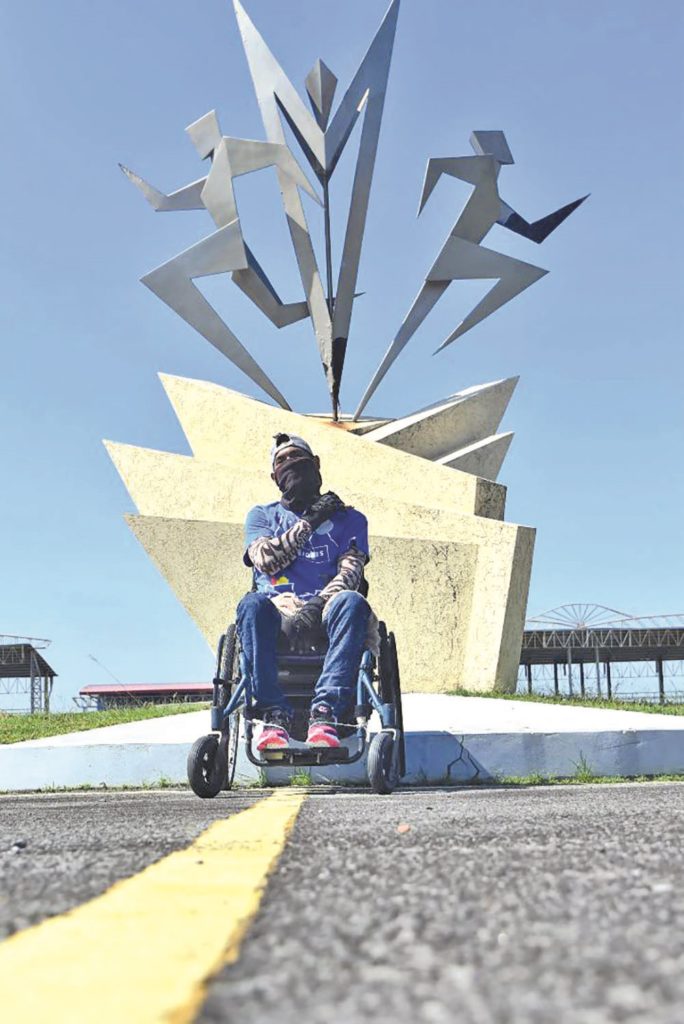 While sharing that he capitalised off wheel-chair racing to get into other sports, Edwards, during an exclusive interview with Guyana Times, described that life-changing moment that plunged him into sport.
"That life-changing moment happened in 2015, when I was made to understand that there is a disability sport at the National Park. I made contact with some friends, example Winston Spencer, he told me about it, and I participated in it. That's where I had my first road race.
"The whole idea of being in this position, at first it's not easy; and, trust me, it's not an easy thing and it's difficult for persons like me to carry out a daily task. But from there you get your motivation, from other persons or other things you see that would help you grow from it.
"I grew from my pain, my mistakes and my turmoil, so I could look back and motivate others to do better," Edwards commented, noting that he is keen on pushing others in a condition similar to his in order that they might succeed.
Apart from racing, Edwards has developed an interest in archery. Because some sports in Guyana aren't easily accessible to para-athletes, Vlyssess was taken by surprise to find out that he could find his way into, and participate in, archery.
He explained that his first glimpse of Archery came from a Facebook post by avid archer Nicholas Hing.
"I saw his first shoot, which was an image, and I got motivated to start that. So, I eventually went down the road of finding out about archery, and I eventually came along to Archery Guyana and (found out that a) person like me could participate, which was surprising," Vlyssess said.
"I started participating in archery, I started training, I've been able to have some coaching," he continued.
Edwards also took it upon himself to bring in to the sport interested persons from the West Coast of Demerara.
The one thing that has negatively impacted every athlete this year, irrespective of disability, is the coronavirus pandemic.
Edwards, commenting on the effects of the global pandemic, stated: "Like many athletes, COVID-19 has at first affected majority of our training. I train for numerous hours. Being fit, it creates a more dynamic version of yourself and the sport; because, (in) both road races and archery, you need some amount of fitness to participate and go along with those things."
He went on to say, "In my position, it's usually outdoors that keeps me going, so I had to utilise what I had at home and train with that."
Probed about his future plans for sport, Edwards disclosed that it is his aim to get more para-athletes into the fraternity.
"I would like to have more persons in wheelchairs to come out. In other countries, they have para-athletes, and I'm hoping that one day I'll be able to be part of a Paralympics,"
And Edwards is looking to talk to the biggest boss about his vision, "I'm hoping to have a one-on-one discussion with the Minister of Culture, Youth and Sport, Charles Ramson Jr, about these disability sports."
While Vlyssess has planned to retire from local racing, he will be sure to jump at the opportunity to participate in international racing.
"In terms of my career in road racing, if there is an opportunity to participate, I will. However, I'm trying to push this road racing for wheelchair persons to a higher level," he said.