…occupants accuse Govt of neglecting Amerindians
The Paramakatoi, Region Eight (Potaro-Siparuni), North Pakaraimas Secondary School Dormitory has been under water for days now as a result of the persistent heavy rainfalls. This issue has been affecting residents since 2017 and no efforts are being made by the Administration to remedy the problem, this newspaper was told.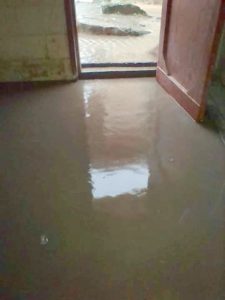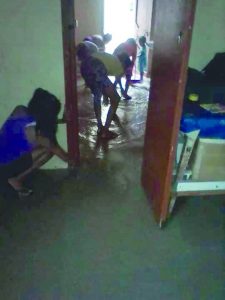 A housekeeper at the dorm told Guyana Times on Tuesday that on Sunday last, she and the children occupying the dorm were awoken by floodwaters gushing into the building.
She said they were forced to get out of bed and pack up books and clothing and whatever else they could have saved in an effort to avoid further damages.
"The water was already coming in…by the time I get up, I woke the kids to pack up their bags and books and so on because everything would have damaged completely. All their shoes and so were floating away," she said.
The frustrated woman explained that they have raised concerns on this issue at several meetings with those in authority, however, no intervention has yet been made.
"Every time they call a meeting we bring it up…two years after, we still bringing it up and we're still waiting on action. This is hard on us and these children here suffering. Nobody cares…I really believe this present Administration doing a poor job for the Amerindian people. It is clear they have no regards for us. Now you see them running around trying to bribe people to buy votes but we see right through them. We will not be fooled or misled. They care about no one but themselves," she added.
She further stated that regional officials are fully aware of this problem while adding that they oftentimes claim that they have to await the intervention of Central Government to address the issue. She made calls on the authorities to put necessary measures in place to execute the much-needed works to ensure that the facility is not affected by heavy showers. "The regions knows of the problem. They come and visit and so on. They know what is happening here but they say they don't have the resources to deal with this issue. They said they informed the Ministry and they are waiting on a response so I don't know when that will be and how long more we have to be suffering. I would like for the Government to see what they can do to help us here in this situation because it's a big place and houses a lot of children," she said.
Meanwhile, when contacted for a comment on the issue, Indigenous Peoples' Affairs Ministry's Public Relations Officer, Alethia Charles said that both Ministers are on outreaches in the field and could not offer a comment at the time.
The dormitory accommodates some 400 students from across the region and even some from Region Nine (Upper Takutu-Upper Essequibo) communities in close proximity.