Alcoholism among youth
Alcohol seems to be increasingly used and abused by teenagers, and Pandit Dev Ramrattan believes the issue is prevalent in the country's youthful population because parents are neglecting their roles as first teachers of children.
The well respected Hindu priest posited that the scourge of alcohol abuse is causing the young people to break away from their social being, while at the same time causing them to be affected both mentally and religiously. This trend, he noted, would eventually lead to their being involved in domestic violence.
"Young people are imbibing a lot, and it is causing (their) downfall and a breakaway from the social being, which affects them mentally. Religiously, as well, there has been a lack in young people's commitment to their religion. Generally, when we examine the effect (alcohol) has on our society, I can only say it is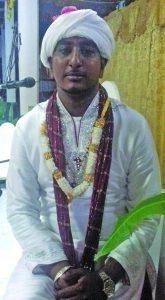 detrimental," he declared.
He reflected on an incident in which three girls who were brought up by alcoholic parents followed in their parents' footsteps and themselves became alcoholics and victims of abuse. He gave this as an example to convey the message that parents must be great role models for their children.
Ramrattan is encouraging young minds to educate themselves and get involved in religious organisations, so that they can be helped in dealing with issues before those issues cause them to become alcoholics.
"My advice to young people who would turn to alcoholism is: seek help. There is a lot of help out there in terms of having education. There are organisations that are set up to curb these practices… Parents, as well, have a huge role to play in the upbringing of their children, by giving them the necessary training and (having) them counselled," he explained.
Ramrattan is part of the "Divya Jyoti Jagrachi Sanschan", which when translated in English reads: Divine Light Awaking Mission, which helps peope to overcome various issues. This organisation, he noted, can also bring an end to alcoholism in our society.