Karatekas Amit Kumar Paresar and Krishna Jhaman were among the star fighters at the recent Guyana Karate College (GKC) grading examinations for its Springlands Dojo in the Ancient County of Berbice.
The GKC and the Radha Krishna Foundation kicked off classes last September under the experienced eye of 7th Dan Shihan Jeffrey Wong as well as veteran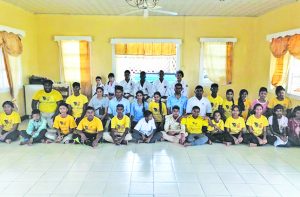 instructors Aliya Wong and Otto Harris.
Paresar, Jhaman and Gavendra Mohabir were the top students while Lavesh Mohabir and Charran Singh made a huge leap from 10th Kyu to 6th Kyu. Also moving from 10th Kyu to 7th Kyu were Teena Persaud, Padminie Devi Dhup, Inderlal Singh, Kamala Devi Huran, Ashmini Prasa, Leeza Prasad, and Priya and Davie Tulsi.
Sensei Wong offers martial arts training to the Berbice residents with an extensive curriculum including traditional karate and self-defence. The Foundation also provides scholarships to students to attend the University of Guyana and executes a monthly medical outreach programme to provide medical services to the general public.