Women in agriculture
By Indrawattie Natram
Despite advancing her academics past the Caribbean Secondary Education Certificate (CSEC), 20-year-old Sherreyon Bisram, aka Sherry, of Red Lock Village in Region Two (Pomeroon- Supenaam), finds herself vending at the Anna Regina Market daily,  selling agricultural produce harvested from her family's farm. For her, this activity has paved the way for future advancement and opportunities; it doesn't hurt that she enjoys every moment of it.
Bisram, after completing her secondary education at Abram Zuil High School, attended the Guyana School of Agriculture (GSA) in 2012 where she attained a certificate in forestry. After gaining experience in the field of forestry, she then pursued a certificate in supervisory management through the University of Guyana. Additionally, she has also completed a few courses in Information Technology. However, as she explained, even as she pursued academic achievement, Bisram never swayed from her true calling, farming and vending.
"Since I small I used to help my mom on the farm; during the summer I would find myself going to the market to sell. I find farming very enjoyable and although I studied different fields, my mind is on selling what I produce," the young businesswoman said.
Bisram, in 2013, began vending full-time from her mom's stall at the Anna Regina Market and since then, she has discovered the true meaning of independence. This budding businesswoman can be seen from the Market's entrance, with her huge red and black umbrellas over her neatly packed stall of vegetables and fruits. Many persons have questioned why would a highly qualified girl stand in the sweltering heat under two umbrellas waiting for sales. But, Bisram says she simply enjoys doing it and wouldn't trade it for anything. She loves being her own boss and the independence she feels in vending and gardening.
"Once you plant, there must be money and once you get money, you can develop in life. I love selling and I enjoy the independence," Bisram explained.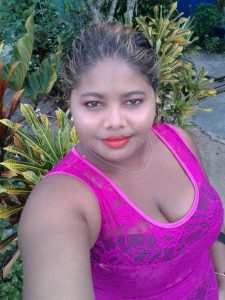 She also explained that her fruits and vegetables sell like "hot cakes" and she has her regular customers who cheerfully look for her. She particularly enjoys Fridays, the best day for business. The young entrepreneur also sells her vegetables to residents at Mainstay-Whyaka and would normally ride through the village on her motorcycle on Sundays.
Currently, Bisram sells all types of vegetables, fruits, pepper sauces and cassareep. The vegetables are all reaped fresh from her family's Red Lock farm. She also assists other farmers in marketing their produce.
A typical day for Bisram begins as early as 03:00h; she would pack her mother's vehicle in an effort to reach the Anna Regina Market at 05:00h. There are times when she arrives a bit later, but she usually finishes late in the evening. When she returns home, it's straight into the garden and with the help of her five siblings, the day ends there.
This inspiring young lady encourages other young people, especially women, to venture into their own businesses and be independent. She urged that more people become involved in agriculture as it would create opportunities for self-development. She also advised persons to keep Jesus close and to ask him for everyday guidance.
Bisram is currently constructing her own concrete two-storey house, and her aim for the next five years is to complete her house and buy her own vehicle, in addition to opening more stalls at the various markets along the Essequibo Coast. Her lifestyle and commitment to vending have defined the true meaning of independence and have also highlighted the benefits of planting a garden.