A D Field, Sophia, Greater Georgetown businessman was on Sunday evening stabbed to death in front of his business place as he attempted to make peace between a man and his reputed wife.
Dead is 48-year-old Godfrey Phillips, of Lot 3028 D Field Sophia. He was reportedly stabbed once to his left abdomen and was pronounced dead on arrival at the Georgetown Public Hospital.
Based on reports received, the now dead man had already closed his business for the night when he heard an argument. As he ventured out, he saw the suspect arguing with his reputed wife and cautioned them about their behaviour.
The suspect of Pike Street, Kitty, Georgetown reportedly became annoyed, whipped out a knife, and inflicted the fatal blow on Phillips.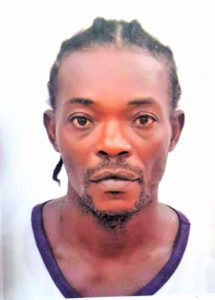 After committing the act, the suspect and his reputed wife fled the scene, but the Police confirmed that he was later arrested and was being grilled about the heinous crime.
At the Turkeyen Police Station on Monday morning, Subrena Phillips, the dead man's widow, related that she was at home on Sunday evening when she received a telephone call informing her that her husband was stabbed.
Without hesitation, she contacted her eldest daughter, who confirmed that her father had been stabbed and had been rushed to the Georgetown Public Hospital.
She ventured out and on her way to the hospital in the company of her nephew, she received another call – this time from her youngest daughter who informed her that her father was dead.
"I still turn up at the hospital and I saw he was already wrapped … I unzipped the holder and I saw his eyes and mouth open …," she related with tear-filled eyes.
She related to Guyana Times what she knew of the incident, "I heard that he went to part some fight between a man and his reputed wife, and he went and tell them to calm down, that it ain't looking good and is then the man pull out and push the knife."
The suspect, she added, hailed from Kitty, Georgetown, and left the scene after committing the act. The distraught woman stated that she did not know the suspect, but he was known to her children.
She told this publication that she and her husband had been married for the past 24 years, and had three children.
At the scene, the man's eldest daughter pointed out the spot where her father collapsed and died.
She related that at the time of the stabbing incident, people were in the vicinity of the shop and saw what took place, but they were afraid to speak out. This newspaper understands that a young woman who witnessed the stabbing incident has since given a statement to the Police as they continue their investigations.
Phillips' body was taken to the Lyken Funeral Home to await a post-mortem.