Saturday last marked the end of play in the round robin stages of the Under-12 PeeWee football tournament.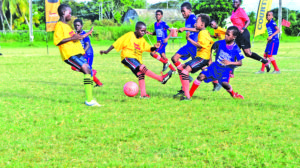 The games were held at the Ministry of Education Ground, Carifesta Avenue, and witnessed riveting encounters as the teams battled to advance.
Heading into the round of 16 the first set of matches will commence at 13:00 hrs and will see Redeemer taking on St Agnes and Genesis duking it out with Maes.
At 13:50 hrs, Timehri will see off St Stephens while Craig will attempt to topple Soesdyke. In the third round of matches St Pius and Uitivlugt will lock horns at 14:40 hrs and Enterprise will take on West Riumveldt at the same respective time.
The final matches of the day will witness Marian Academy attempting to over throw Tucville and North Georgetown battling St Ambrose.
The twenty-four teams that commenced the tournament were: Ann's Grove, Beterverwagting, Craig, Enterprise, FE Pollard, Genesis, JE Burnham, Marian Academy, Mocha, Mae's, North Georgetown, Redeemer, St Agnes, St Ambrose, St Margaret, St Pius, St Stephen's, Smith Memorial, Soesdyke, South Ruimveldt, Timehri, Tucville, Uitvlugt and West Ruimveldt Primary schools.
This grassroots' level tournament, now in its eighth year, affords opportunity to primary school players to begin or develop their skills. With stakeholders such as Courts, Guyana, and Banks DIH under their Rainforest Waters and Malta Supreme brands, over 4 million has been invested in the tournament, which is expected to run for about 7 weeks.
Teams have been placed in six groups, with the top two and four best third place group finishers advancing to the Round-of-16. From there, no more teams will be eliminated, but rather play for positions; one to 16 until the finale on November 2.