Hosted in honour of one of Guyana's most prolific football players, the Frank Watson Under-15 tournament will come to an exciting close, as the winners of the Regional Member Association tournaments gear up to participate in a best-of-the best league competition.
Ten teams who were triumphant in the respective RMAs will now compete for the spot as the best Under-15 team in the country when the competition kicks off on Saturday, February 2.
Reflecting on the life of the tournament's namesake was Pele Alumni's John Yates, who emphasised on Frank Watson's love for development and discipline. Yates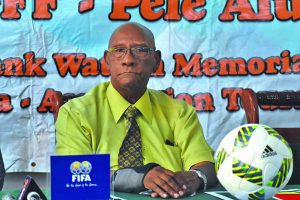 also made mention of the need for inclusiveness.
"The alumni felt that it is important that we try to develop football across the 10 regions in Guyana. Guyana is not just Georgetown; we have 10 regions and hence they met with GFF [Guyana Football Federation] and felt it important that we have a competition across our 10 regions. This is what the Pele Alumni- GFF competition is all about," Yates stated.
Nine teams will compete in groups of three in the preliminary rounds, with the three winners of those groups advancing to take on Tabatinga FC in the final four.
Citing the reason for this, GFF Youth Development Officer Bryan Joseph explained that it would be less costly to the GFF to accommodate the Tabatinga FC for one day. Furthermore, Joseph explained that the league will be a historic one.
"What this tournament does for youth development in Guyana is it's transformational from what we had in the past.
Just in the qualifying rounds, we had upwards of 100 games played across this country. And that would have been in addition to games organised by each member association. And we know the game is the greatest teacher; if the kids play, they will learn," Joseph said.
The teams on show this weekend will be Corriverton Lynx FC (BFA); BV Triumph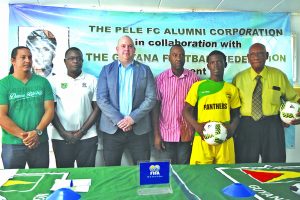 FC (EDFA) and Santos FC (GFA) in cluster one on Saturday. Cluster two will play on Sunday with Timehri Panthers (EBDFA); FC Eagles (WDFA) and Milerock FC (UDFA) playing for supremacy. Both clusters will play at the Providence National Training Centre. On Saturday, February 9, Dartmouth Dominators FC (EC/PFA); Rising Stars FC (Bar. FA) and Atkinson Brothers FC (Region 1) will battle in cluster three and will compete at the Anna Regina Community Ground in Essequibo.
The final day of the league will take place on February 16 at the Providence National Training Centre with the winners of the three clusters competing.
GFF's Technical Director Ian Greenwood disclosed that he and the technical team will be using the league to identify Under-15 talents.
"Looking at this weekend, it's a great opportunity for the first cluster and over the next few playing days that we have all the top Under-15 players in the country participating on the ideal surface. Ultimately from the GFF point of view, we're looking for talent ID.
So we're looking to ensure we identify the top players across the country that can come into our national team programmes," the Technical Director disclosed.