– Sukram crowned Female champ
By Clifton Ross
Following two days of intense action at the Lusignan Golf Course, Avinash Persaud created golf history by capturing the Guyana Open Cup title for a record eighth time, while Christine Sukram reclaimed her title.
Persaud, who gained a first-day lead over the competition, went on to storm the greens as he maintained his good run throughout the second day, after taking advantage of his knowledge of the Fairways which he constantly prepares as head groundsman.
Following his win, the Champ told Guyana Times Sport he was happy to showcase his skills against some of the best golfers from across the globe. "The past two days were good for me, I practised a lot, and I went out there and played my normal game and came out victorious", he declared.
With a large concentration of golfers from the USA, Canada, Suriname, Colombia and other countries, Persaud had to dig deep in order to find the resolve he needed to ensure he retained his title. And so he did, as he credited the overseas competition for bringing out the best in him. In the process of recording this extraordinary achievement, Persaud also recorded the best gross score.
"I think they had better players (coming) from overseas this year, but it doesn't matter to me, because I just go out there and work harder so I know the result will be there. This win means a lot to me, because they had good overseas players; so it was good for me. Also, this year the course was much better, the greens were faster and (they) played good," ended an elated Persaud.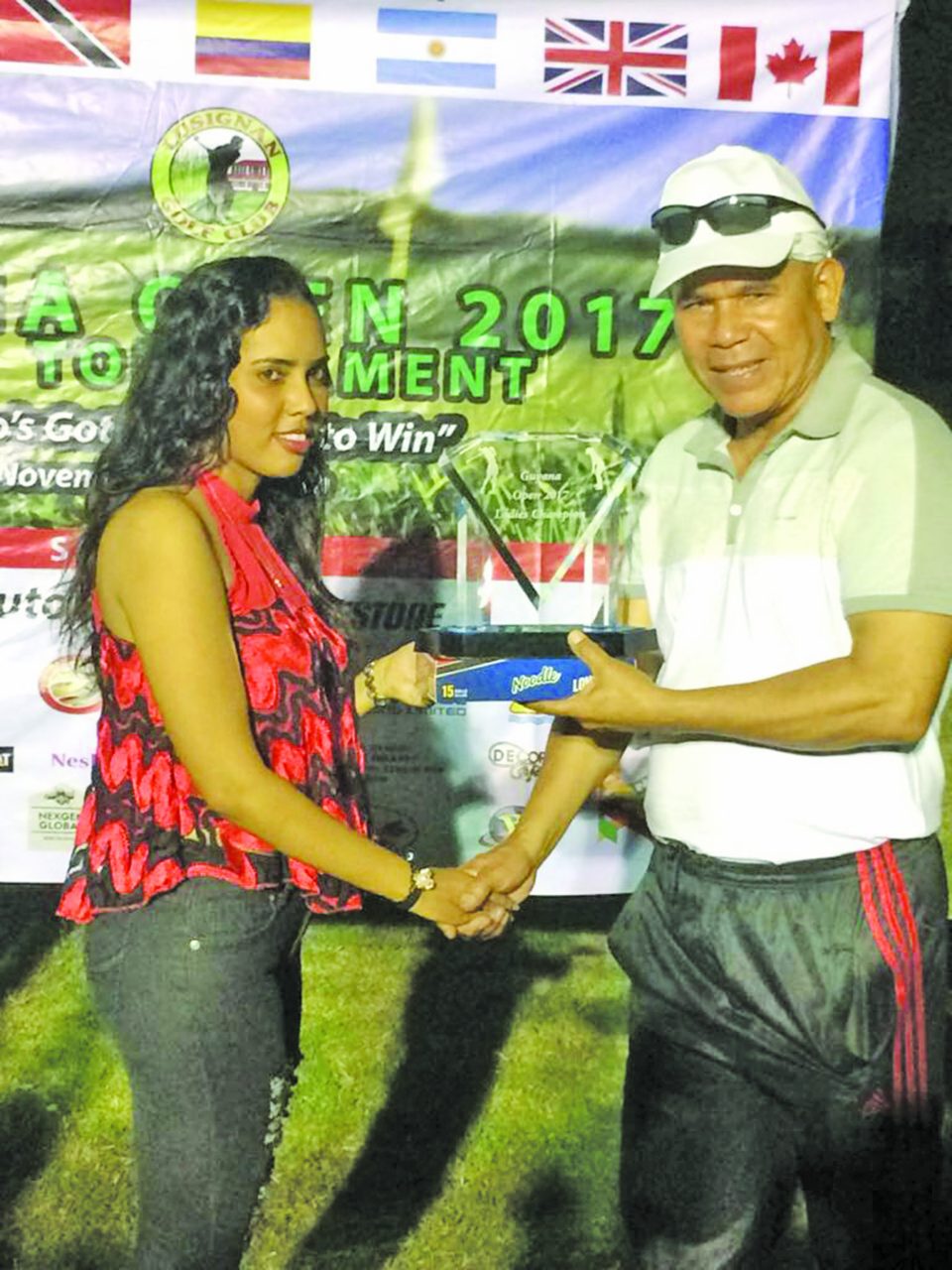 Touted as the best female golfer for the past six years, Sukram reclaimed her title from champ Joaan Deo after she wrapped up the opening day with the best gross. During her brief remarks, Sukram said she was happy to have reclaimed her title, and was also happy that the format allowed her to readjust to her usual tactics.
The new champ pointed out that the competition over the past two days was good, adding that it was good to find her groove and get the better of the competition: Deo, Anasha Ally and Shanella Webster.
At the presentation ceremony held after the tournament, Minister of Social Cohesion/Sport Dr. George Norton said the event had set a benchmark for golf, and indicated that the Government was in full support of the sport, and will continue to lend a hand in the future.
President of the Lusignan Golf Club (LGC), Hilbert Shields, thanked all the golfers for their participation, as well as for making the event a huge success and one which will enter the next edition on a high note. He also congratulated the respective winners for exhibiting professionalism on the field, and expressed hope that support will continue to pour in for upcoming events.