The Guyana National Rifle Association (GNRA) Fullbore shooters held a Recorded Shoot on Sunday at the Timehri Rifle and Pistol Ranges.  The competition was held over the 300, 500 and 900 yards ranges.
Among the outstanding performers were Fullbore Captain Mahendra Persaud, just back from the Canadian Fullbore National Championship who was in excellent form at the first two ranges, having shot possible with scores of 50.4 at the 300 yds and 35.4 at the 500yds.  Ryan Sampson was second at the 300 yds with a score of 49.4.  The 500 yds saw Sherwin Felicien also shooting a possible with 35.4.  The 900yds proved to be the most exciting range with heavy winds, causing much distress for the shooters.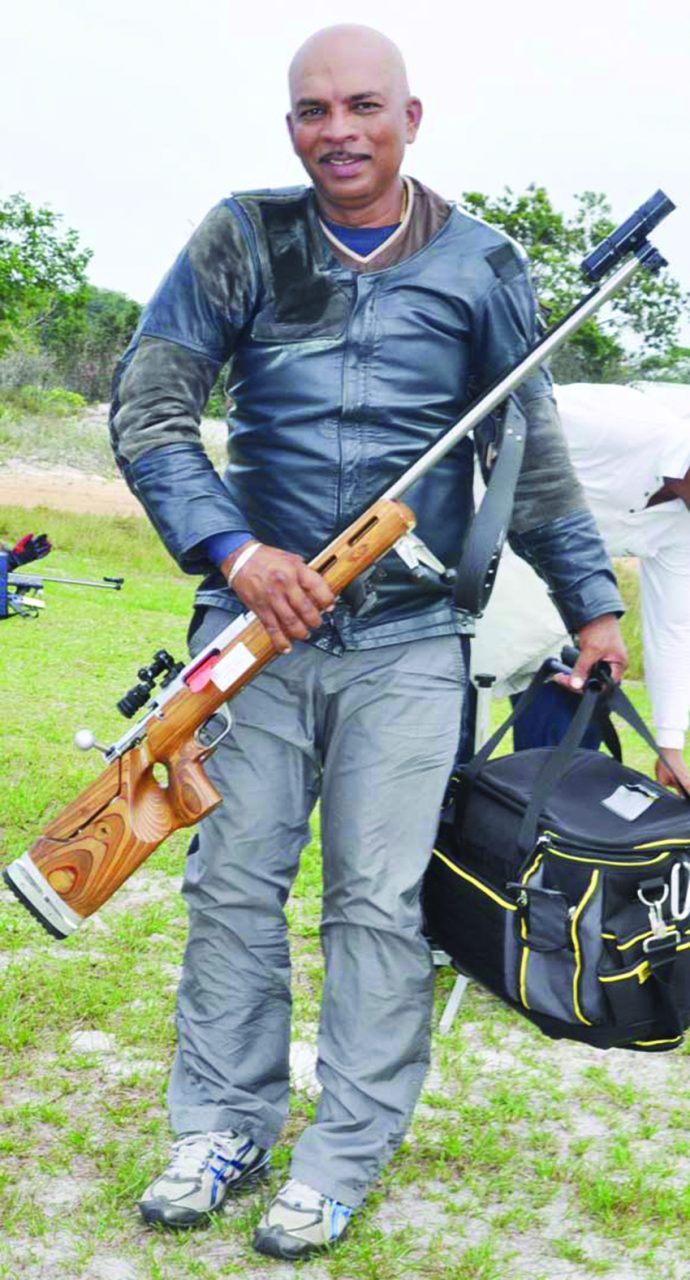 When the last shot was fired in fading light, many shooters were left in disbelief as the Recorded Shoot was won by Mahendra Persaud with an overall score of 117.9 followed by Peter Persaud with 115.7, Sherwin Felicien 112.9 and Ryan Sampson 111.8.
The day's scores saw an overall improvement in scores by shooters as noted by the Fullbore Captain when announcing the final results.  He state that this augurs well for the defense of the team matches at the upcoming Championships in October.
The fullbore shooters, in remembrance of their late colleague, Mr. Richard Fields, who was laid to rest last Wednesday, held one minute's silence on the 900 yds bank.  Last Thursday,   Guyana NRA's President, Brigadier Patrick West, and the Executive Council also paid respect to its late Vice President during its Council meeting.  He was at the time the longest serving Council member.
300 yds

500 yds

900 yds

Total

Name

Pt

V

Pt

V

Pt

V

Pt

V

Mahendra Persaud

50

4

35

4

32

1

117

9

Peter Persaud

48

2

34

2

33

3

115

7

Sherwin Felicien

46

4

35

4

31

1

112

9

Ryan Sampson

49

4

31

2

31

2

111

8

Ransford Goodluck

45

2

34

2

32

2

111

6

Leo Romalho

48

3

34

3

28

3

110

9

Roberto Tiwari

45

0

33

3

31

1

109

4

Dylan Fields

45

3

33

2

30

2

108

7

Lennox Braithwaite

48

4

32

1

28

0

108

5

Dane Blair

37

0

32

3

30

99

3

Chevlon Velloza

34

0

31

0

22

0

87

0