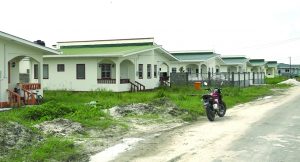 Several persons who obtained a home through the Government's housing initiative in Perseverance, Providence, East Bank Demerara, are complaining of faulty foundation works and leaking roofs among other things.
On Saturday, Guyana Times visited the area where some residents said they have been waiting several months for contractors to rectify the faulty works, some of which they were forced to fix themselves owing to the long delay.
One resident told this publication that persons would have complained to the Central Housing and Planning Authority (CH&PA) several months ago and despite commitment to rectify the issue, they are now fearful that the one year defect/liability period will expire before the issues are remedied.
Seeta Singh explained, "Some of the issues we have is with the ceiling. I don't know if there is a leakage with the zinc in between but the ceiling is swollen and the ply board is falling off inside and out".
According to Singh, her husband had visited the CH&PA's office before, where the family was told to pen their concerns in a letter and attach photographs of the works to be redone. However, the woman said she had requested the agency's personnel to visit their home since the camera is unable to capture the ceiling defects.
In total, the woman said she paid $8 million for her home and would like the works to be done as early as possible.
Another resident, who also lives in the area, complained that his window frames are falling off and he is fearful for his safety. He said his home was visited by a contractor about two weeks ago, who promised to fix the default but showed up informing him that he had "run out" of materials.
Richard Coddet, another resident in the area, told this publication that he had been living in his home for about three years now and is still experiencing troubles because of faulty foundation and roof works. "From the inception when we got this home, we encountered a lot a lot of problems but at the end of the day, overall, we are grateful because we are happy to have a home. We had leaks, we had cracks, we still have cracks and the house seems to be sinking because of the foundation," he explained.
Coddet noted that some Government contractors had visited his home in an effort to rectify the faults. However, he believed that not much could have been done. He said he paid $4.9 million for his home. "They made an effort but the thing about it is that some of the works it seems like if there is not much you could have done. It's a concrete home so they would have probably had to do a lot a lot of breaking because some of the works were so bad," the resident criticised.
He added that because he could not wait on depend on the Government to fix his roof, he took on the additional expense of having it rectified, given that his elderly relatives live with him.
Meanwhile, another resident who is renting one of the homes shared her concerns. Janel Blue told Guyana Times that she applied for land several years ago; however, she was allegedly told she had to "know someone" before she got "lucky". Furthermore, the tenant said, "How come these house is low-income house and when you go in they only got $8 million, $9 million for sale? We put in for low-income so I don't know what they really doing," Blue explained.
Last month, the newly appointed Minister within the Communities Ministry, Annette Ferguson, visited the Housing Scheme where she had a first-hand look at the flawed buildings.
She admitted that there were some issues with flooring, leaking roofs, and toilet facilities and committed to having them addressed if they were still in the liability period.
Government had paused the distribution of lands and had instead embarked on an initiative which forced Guyanese into buying pre-built houses.
This newspaper understands that not many persons are comfortable with the idea of purchasing the houses, as they prefer to oversee the construction process of their own homes for various reasons.
Under the previous administration, over 100,000 house lots were distributed and over 200 core houses were made available to underprivileged families, while a programme for professional groups provided 200 teachers, nurses and Policemen with fast-track access to loans for home construction.