General Secretary of the People's Progressive Party (PPP), Bharrat Jagdeo has put officials and beneficiaries on notice, that a new Administration will deal with corrupt backroom deals that were made in the waning days of the coalition Government.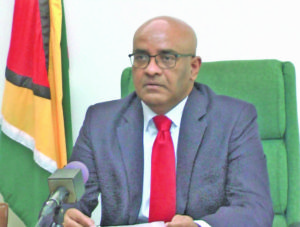 Jagdeo made this pronouncement on Monday, during a video broadcast. In his message, he zeroed in on reports the party had received of various rackets being carried out at a time when Government should be in a caretaker mode, plus transition.
"All those people who are now complicit, knowing that they lost the elections, knowing that the Ministers don't have any authority to sign anything. They too will have problems with the new Administration," Jagdeo warned.
He said that the PPP cannot allow the stealing of State assets, adding that "a lot of these issues will be addressed expeditiously. Lands that were there for low-income housing, they're busy giving out to their cronies at very cheap rates, at Ogle and on the East Bank."
According to Jagdeo, they have even received reports of a gun licensing racket, whereby certain persons are being provided with gun licenses. According to him, the party was appraised of this.
This comes only days after the revelations that the Guyana Power and Light (GPL) agreed to pay almost $600 million for eight trucks; prices which local suppliers had described as inflated, in a deal it entered into after the Government lost power in a No-Confidence Motion.
It was only earlier this year that a massive 164,000 acres of prime State forest located along the Berbice River were allocated to a known Government financier. This allocation was made three days before General and Regional Elections and was criticised by several sections of society.
The elections and the National Recount of ballots had shown that based on 2339 Statements of Recount (SoRs), the PPP/C, whose Presidential Candidate is former Housing Minister Dr Irfaan Ali, received a total of 233,336 votes.
This is 15,416 more votes than their nearest rivals, the incumbent APNU/AFC, which received 217,920 total votes. When one calculates using the Hare formula, it means that PPP/C would have secured 33 out of 65 seats in the National Assembly and APNU/AFC would have secured 31.
It, therefore, means that the PPP/C should form the next Government. In accordance with this, Guyana Elections Commission (GECOM) Chair, Retired Justice Claudette Singh had instructed Chief Elections Officer (CEO) Keith Lowenfield to prepare and submit a final report pursuant to Section 96 of the Representation of the People Act, Chapter 1:03, to enable the PPP/C to be declared winners.
With the exception of a few key members, however, APNU/AFC has shown an unwillingness to concede defeat. Its coalition partner, Justice For All Party and the APNU/AFC Prime Ministerial Candidate Khemraj Ramjattan have since conceded defeat.