Deaths of 3 children at GPHC
…employees being investigated sent on admin leave — Minister
For the second week in a row, activists on Wednesday picketed the Public Health Ministry as they lobbied for transparency and accountability in the health sector, following the deaths of three children at the Georgetown Public Hospital.
The protesters vowed to continue their picketing for a third week if the ministry does not provide some information on the deaths of the three children.
A picketer, Sherlina Nageer, "We're gonna be out here for at least one more week and we are hoping people who have been affected, who have negative issues in the public health sector come out and join us to stand up for their rights. Health care is a human right, it's in our constitution (and) we deserve improvements."
Nageer told Guyana Times that Red Thread have contacted a lawyer who is ready to lend service to the parents who lost their children and by extension, persons who have had bad encounters with the Public Health Ministry.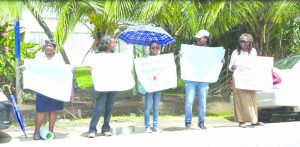 "There needs to be more accountability, people need to pay more attention, especially when you are dealing with poor people because poor people who cannot afford private care or can't afford to fly out are often the ones using the Public Health System and so we need to have more confidence," she argued.
She added that there is a grave need for improved services being offered by the Guyana Medical Council.
"The (Guyana) Medical Council also which is responsible for investigating situations that are questionable needs to do a better job. A lot of the public may have an issue and don't know where to report it, sometimes they do report it and they wait for months and months and months and they never hear back from the Medical Council, so those people give up and move on with their lives," the picketer posited.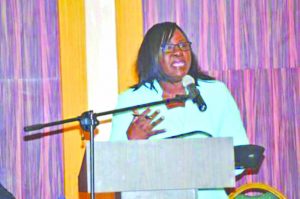 Another activist from Red Thread, told this newspaper that nurses and doctors who are found culpable after a probe should be held accountable.
"I want to see better health care…I need to see more stricter penalties for those persons who have defaulted," she said.
Probe
Meanwhile, the Minister within the Public Health Ministry, Dr Karen Cummings when contacted informed this publication that the investigation into the deaths of six-year-old Sharezer Mendonca, three-year-old Roshani Seegobin and Curwayne Edwards is progressing well.
Cummings explained that the investigation is likely to conclude this week as most of the parties involved have already been interviewed.
"We should wrap it (the investigations) up this week I think according to what I gathered from the persons who was in charge the DCMO (Deputy Chief Medical Officer) Dr Karen Boyle. I think there is one other person from Region Eight (Potaro-Sipuruni) the mother she had to be interviewed I think this week," she said.
In addition, the minister noted that the ministry is optimistic of receiving the report by next week. The minister added that the persons who were involved in "whatever mishap" occurred have been sent on administrative leave, pending the outcome of the investigation.
Meanwhile, a senior official at the GPHC told this publication on Wednesday that the investigation has been going well, "but the team has been combing through the cases with caution as the lives of three children were lost."
Major public outrage was sparked recently after the three children lost their lives under questionable circumstances at the Georgetown Public Hospital.
While in Opposition, the now governing coalition parties had heavily criticised members of the People's Progressive Party/Civic for seeking medical treatment overseas, instead of utilising the nation's facilities.
However, now in Government, A Partnership for National Unity/Alliance For Change Ministers have been flying to Ireland and other overseas territories in a bid to access medical treatment. It has also been disclosed that a health insurance policy has been prepared for Government officials.