Carvil Duncan case
High Court Judge, Justice Franklin Holder ordered a cross-examination between Prime Minister Moses Nagamootoo and trade unionist Carvil Duncan to reconcile conflicting stories submitted in affidavits supported by both parties in relation to an ongoing matter.
The Prime Minister is contending that he dispatched a letter to Duncan's Office informing him of the executive's decision to establish a tribunal to determine if he is fit to continue serving in his constitutional offices in light of several court charges he is facing.
Nagamootoo said the letter, as required by the Constitution of Guyana, invited Duncan to show cause why the tribunal should not be set up.
However, Duncan is holding out that he never received the correspondence.
The matter was called in the High Court on Monday; however, Nagamootoo's Attorney, Attorney General and Legal Affairs Minister Basil Williams was not prepared.
Duncan and his confidential secretary were fixed to take the witness stand. Attorney Anil Nandlall appeared for Duncan and was prepared to proceed, but Williams informed the court that he was not prepared to proceed with cross-examination, because an affidavit the court granted him leave to file over a month ago was not yet filed.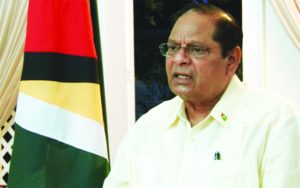 The Attorney General said he needed to file the affidavit before he could begin cross-examination and he requested further time to do so. The court granted him one week to do so and ordered that he pay costs to Nandlall in the sum of $10,000 before the affidavit is filed.
The matter is fixed for continuation on March 15, 2017 at 09:15h. As required by the Constitution, the Prime Minister was obliged to give Duncan a hearing before he recommended to President David Granger that a tribunal be established to investigate Duncan's removal from office.
The Prime Minister, under oath in an affidavit filed in the proceedings, said that he sent a letter to Duncan on March 29, 2016, giving him 14 days to show cause why this tribunal should not be established. In the affidavit, the Prime Minister said, that this letter was received at the office of the Public Service Commission (PSC) on April 14, 2016.
Notably, if the letter was actually sent based upon Nagamootoo's admission under oath, then it was received at Duncan's office after the expiration of the 14 days that the letter itself supposedly gave Duncan to show cause.
On the other hand, both Duncan and his confidential secretary at the PSC swore affidavits that no such letter was ever received. Duncan's confidential secretary, in her affidavit, said that on April 14, 2016, a mail was in fact sent from the Prime Minister's office.  However, this mail contained a letter addressed to the Prime Minister from Public Administration International (UK), informing the Prime Minister of a PSC workshop, which would be held in London from November 7-11, 2016.
By a note attached, this mail was forwarded by the Prime Minister's confidential secretary to Carvil Duncan upon the direction of the Prime Minister.
Justice Holder, in October 2016, suspended the work of the presidential tribunal following an injunction, which was filed by Nandlall.
Nandlall argued that the tribunal was an unlawful and unconstitutional course of action since Duncan was not proven guilty of his charges.
Nonetheless, the President had suspended Duncan from his constitutional posts which included being a member and chairman of the PSC, Judicial Service Commission and the Police Service Commission.
Subsequently, city Magistrate Leron Daly dismissed one of the charges against Duncan. Duncan was facing a charge which stated that on March 31, 2015 at Georgetown, he stole $984,900, property of the Guyana Power and Light (GPL).
Duncan still faces a conspiracy charge which stated that between May 7 and May 8, 2015, he conspired with then Deputy Chief Executive Officer (DCEO) of GPL, Aeshwar Deonarine to steal $27,757,547, property of the power company.
Earlier this year, city Magistrate Fabayo Azore has been assigned by Chief Magistrate Ann McLennan to preside over the trial of Duncan in relation to the conspiracy charge. The reassignment of the case came days after Magistrate Daly recused herself from the matter on the ground that she presided over the case for which Duncan was charged with stealing $984,900 from GPL, and found him not guilty.