Over 200 Police ranks led by acting Commissioner of Police Clifton Hicken on Sunday engaged in a clean-up campaign along the Kingston Seawall from Camp Street to Marriott Hotel.
Prime Minister Mark Philips, who is performing the duties of President, accompanied by acting Chief-of-Staff, Colonel Omar Khan, visited the cleaned beach shortly after the exercise concluded where they met with acting Deputy Commissioner "Operations" Ravindradrat Budhram.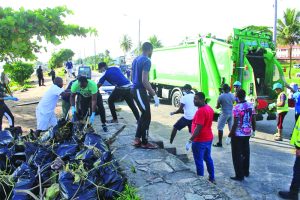 Budhram, during his engagement with Prime Minister Phillips, noted that while numerous ranks participated, the Police Force received support from residents of Sophia, Greater Georgetown, several non-governmental organisations, and youth groups.
"This morning we've embarked on this exercise headed by the Commissioner of Police, Hicken, and some of our stakeholders from NGO and some of our youth groups who came out and we started cleaning from Camp Street to the Marriott hotel," Budhram said.
Budhram told the Prime Minister that while the exercise was a success, "It will continue on a monthly basis. Every last Saturday in the month we will come out and clean, and the same will be done in all our Police Divisions across the country…so we are part of this initiative to keep our country clean, healthy and safe".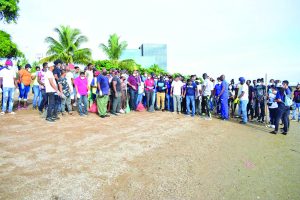 The Prime Minister, in an invited comment, said Sunday's activity is part of a nationwide clean-up campaign. "What we've done today is basically the start of the National Clean-up Campaign. You know we've had several clean-up campaigns before but today is not only in Georgetown, this is a clean-up campaign that is in all the regions, especially the coastal regions, started today (Sunday)," he said.
"The intention is, as we start today, we continue next weekend and the following weekend until we reach a point where you know everybody is involved in this campaign and we're satisfied that, you know, once we approach it in an ongoing manner, we will continue to have not only a clean city but a clean country," Prime Minister Philips noted.
Speaking on the Guyana Police Force's initiative, the Prime Minister applauded the effort by members of the GPF and further said, "It's a good exercise, it's something that not only the Government should be involved in but the people, the private sector, and I see some private sector agencies are involved in this morning's exercise. And we expect that once we continue next week and the following week and so, the participation will grow so you will see more private sector agencies involved…. but more than that, we need the communities and the community leadership throughout Guyana to get involved in cleaning up their community".
The acting Chief of Staff also lauded the enhancement efforts by both the Police Force and the Army.