The People's National Congress Reform (PNCR) has publicly admitted to not fulfilling promises outlined in its pre-2015 elections manifesto after the coalition Government took office.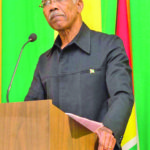 This admission was made by PNCR Executive, Aubrey Norton during the party's press conference on Friday at its Congress Place, Sophia headquarters. In an attempt to defend the coalition's failure to deliver on its promises, the executive said that no political party can deliver "all" its promises.
The former presidential advisor, whilst responding to a question, which requested his views on the performance of his party, stated that the party is satisfied but further added that there are indeed a few unfulfilled promises but chose not to expound further.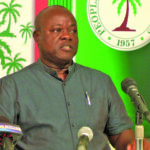 "…the PNC is satisfied. We have delivered a lot of services, there are things that we didn't deliver that we promised," Norton said.
Only on Thursday Opposition Leader Bharrat Jagdeo called out President David Granger for misrepresenting Guyana's reality. Jagdeo pointed to the issue of unemployment, high crime rates among other issues which continue to pervade Guyana, but noted that the President claims differently.
The Opposition Leader further pointed to some broken promises of the APNU/AFC Government, this included the liberalisation of the communications sector which was not achieved, and the aspects of the Cummingsburg Accord which were unfulfilled, specifically the role of the Prime Minister in chairing Cabinet and aiding in ministerial appointments.
"They broke all the promises. They broke every single one of these promises but either way, the people of this country are getting shafted. That's it. What bothers me, though, is that he's not pressed on issues" Jagdeo asserted at his weekly press conference.
But most recently, sugar workers flogged the coalition Administration for failing to raise their salaries, which was a promise made during the 2015 campaign trail.
President of the Guyana Agriculture and General Workers Union (GAWU), Komal Chand stated that the APNU/AFC coalition, since it took office five years ago, has done more harm than good to the thousands of persons employed in the sugar belt and that many persons continue to suffer as a result of the Administration's actions or lack thereof.