GT Beer 8-a-side Football Tournament…
Police have staged a successful challenge of their defeat at the hands of Monedderlust in the semi-final of the Candy Boss/Antics GT Beer 8-a-side Football Tournament in Berbice.
The goal scorer for Monedderlust was in fact a registered player for the Guyana Defence Force (GDF).
Before the start of Sunday's game, Police had objected to Travis Henry playing for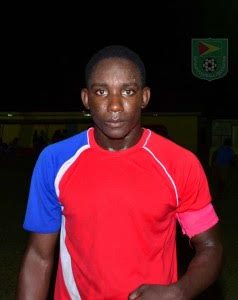 Monedderlust. This was brought to the attention of the management of Monedderlust.
However, they claimed that he was an authentic player.
Henry scored the lone goal in the game and Police challenges his authenticity. The game was subsequently awarded to Police as Henry has been registered as a player for the GDF. Henry's name was also not submitted on the original list of 15 which each team was required to submit before the start of the Tournament.
Police will take on Paradise in today's final, which will be played at the All Saints Ground on Princess Elizabeth Road in New Amsterdam.
Paradise FC had beaten Golden Star 2-1 on penalties after the two teams had played to a 3-all stalemate at the end of regulation time.
Police had also objected to two players on the Paradise team when the two sides met in the super-six stage of the Tournament. However, they did not go through with the challenge after they won the close encounter.
Paradise qualified for the final Thursday night when they defeated Golden Star 2-1 on penalties after the two teams had played to the 3-3 stalemate.
Sunny Logan sent Golden Star ahead in the fifth minute and then Paradise scored on themselves to make it 2-nil in the 28th minute, but one minute later Otis Mitchell gave Paradise their first goal and then rocked the back of the net in the 35th minute with the equaliser
Simon Emanuel was equal to the task and answered that goal two minutes later, but Delroy Ferdinand who had earlier scored the own goal made amends with a 42nd minute equaliser.
The game was subsequently decided from the penalty spot.
Golden Star are expected to take on Monedderlust for third place under lights before the final.
At stake is $600,000 for the winner and $300,000 for the runner-ups. The third-place team will receive $200,000. Medals and trophies have also been secured for the top four teams.
Police are the defending champions.