Claiming it was a little 'hustle' when a raid unearthed a quantity of marijuana at his Tabatinga, Lethem home, a 26-year-old miner has been arrested pending charges.
The raid was conducted on the home of 26-year-old gold miner Akeem Charles in Tabatinga, Lethem, Region Nine (Upper Takutu-Upper Essequibo).
Police ranks from Regional Division Nine on Thursday visited the premises. During the raid, conducted in the presence of Charles, the ranks found three white plastic bags. Two of the bags contained a quantity of leaves, seeds and stems, while the other bag contained 59 transparent Ziplock bags with leaves, seeds and stems, all suspected to be cannabis.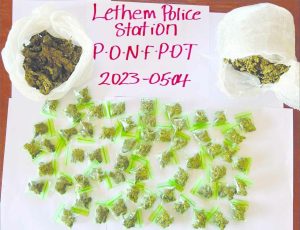 Told of the offence committed and cautioned, Charles replied: "Is just a lil hustle, officer".
He was arrested and escorted to the Lethem Police Station, where the suspected cannabis when weighed in his presence, amounted to 516.3 grams. The substance was marked and placed in a transparent evidence bag, and lodged with the Station Sergeant for safekeeping. His oral confession was recorded, and Charles remains in custody, being slated to be charged next week. (G12)