After a promising 2018, Police FC and Santos FC have finally reaped the fruits of their labour by copping the final two places in the Guyana Football Federation's Elite League fourth season.
This was the result of a packed, six-game weekend at the GFF's National Training Centre (NTC), Providence.
As the Elite League rules stipulate, after the season is finished the 10th place team is relegated whilst the ninth place team will enter a play-off with other teams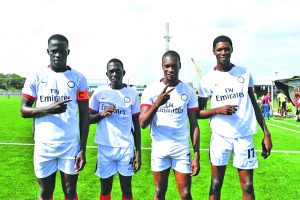 for a chance to re-enter the League.
In this case, Cougars FC were relegated and New Amsterdam United entered the play-off along with Santos FC; Buxton Stars; Soesdyke Falcons; Riverview FC; Georgetown Football Club (GFC); FC Eagles, and Police FC.
After the others were knocked out in the first round on Saturday, Santos FC and Buxton Stars were made to battle for one spot while Police FC and Soesdyke Falcons faced off for the other on Sunday.
In the first encounter on Sunday morning, Santos FC controlled the majority of the game, focusing on their defence after a goal from Donte Forde in the 19th minute. This tactic worked well for the Georgetown club for much of regulation time until Kofi Major broke their spirits with a goal for Buxton in the 87th minute.
The game was then plunged into penalties where Santos' goalkeeper fought valiantly to hold off their opponents, resulting in a 3-1 penalty win for Santos.
Police FC were the next team to taste victory in Sunday's action after a commanding win over Soesdyke Falcons. Teon Jones was the first of the law officers to find the back of the net in the 8th minute and was followed by Quinsi Holder in the 29th. Dellon Smith made a reply on behalf of Soesdyke in the 30th minute, but Holder returned just before the half ended to extend the lead to 3-1.
The second half saw Amaniki Buntin and Steffon Ramsey adding salt to Soesdyke's wounds with two more goals for a 5-1 win.
Fruta Conquerors are currently the reigning Elite League champions after a scintillating run in 2018. The Guyana Defence Force (GDF) FC; Den Amstel, Western Tigers, Victoria Kings FC, Buxton United, Milerock and Ann's Grove United are the other teams in the highest competitive league in the country.