Days after Public Security Minister Khemraj Ramjattan indicated that an investigation was launched into Charrandas Persaud, the Guyana Police Force is yet to disclose the grounds under which the investigation is being conducted.
This was further cemented after Top Cop Leslie James told media operatives on Thursday that he will not divulge any information with respect to the investigation other than it is one of "national security".
"The investigation is ongoing and as I said prior, it's a matter of national security… Is a matter where a former Member of Parliament is reported to have been involved allegedly, in some matter, and that is what we are dealing with," he told reporters on the sidelines of the Force's Annual Officers' Conference.
The Police Commissioner further withheld information on how the Force came about to launch the probe or whether anyone made a formal complaint.
The Top Cop posited that, "Well whatever is established will be determined; we do not determine what is established. What we do is investigate matters and submit for legal advice."
Moreover, when asked about the credibility of the evidence being gathered, James asserted that he cannot speak to that.
"We are at this point in time collecting evidence… [on] a matter that was reported to us of national security importance… As I said it's a sensitive matter please give due regard to that," the Top Cop said, while assuring that a press conference will be called in the future to update the public on this matter.
Nevertheless, Commissioner James disclosed that so far, no contact has been made with the former Member of Parliament but noted that if this becomes necessary then it will be done.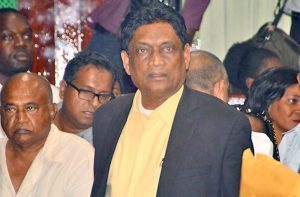 Since the historic December 21, 2018, 33-32 passage of the no-confidence resolution – a move which has toppled the A Partnership for National Unity/Alliance For Change (APNU/AFC) coalition after the AFC MP broke rank with Government and voted in favour of the Opposition's no-confidence resolution, there have been much speculations surrounding the action of the former MP, who said he took a "conscience vote".
In fact, there are allegations floating around after Charrandas was seen leaving the National Assembly escorted by People's Progressive Party (PPP) member, Peter Ramsaroop. However, on Wednesday, Opposition Leader Bharrat Jagdeo dismissed these mischievous claims, saying that the businessman is free to befriend whomever he wants to, even if it's persons from the opposite side of the house.
"Peter is free to be friends with Charrandas, and also a member of the PPP. Charrandas has lots of friends on our side and we have lots of friends on APNU's side so there are lots of people who have friendships across the political spectrum… I'm not going to distance the party from people because they have friends among other races and among other parties. That's what we're trying to encourage, better relationships across politics," the Opposition Leader asserted during a press briefing on Wednesday following the highly anticipated meeting with President David Granger on the way forward after the passage of the no-confidence resolution.
Furthermore, Jagdeo once again took time out to categorically set the record straight that there was no inducements from the Opposition to sway the former Government MP's vote. He also rubbished allegations by Attorney General Basil Williams that the PPP has compromised five more parliamentarians on the coalition's side.
Meanwhile, Ramsaroop has also denied any wrongdoing, telling reporters on Wednesday that Charrandas had requested his help – something which he would have done for any of his friends.
"…I mean Charrandas is my friend [but] I didn't even know if he was going to vote yes or not. He just said to me, "If I decide to vote yes… would you help me with security," and I said "absolutely, yes"," the businessman told reporters.
However, Ramsaroop's support for Charrandas has caused the Ogle Airport Inc to suspend protocol pass over an alleged security breach. This order came from the Guyana Civil Aviation Authority (GCAA) although the airport insisted it did not breach any protocols.
According to reports, a Canadian diplomat, along with Ramsaroop, had obtained protocol passes to see Charrandas off at the Eugiene F Correia Airport, hours after the December 21 sitting of the National Assembly. It is being alleged that the security protocol was breached when Ramsaroop accompanied the diplomat and Charrandas onto the tarmac of the East Coast Demerara airport since such passes are valid for civilians.
It was against this backdrop that Canadian High Commissioner Lilian Chatterjee was called for a meeting with Foreign Affairs Minister Carl Greenidge on Wednesday.
The Canadian envoy confirmed that the meeting took place but opted not to divulge any further details when questioned by the media on the matter at an event on Thursday.