…Vigilance Magistrate's Court gets video recording system
Guyana's poor Internet service has come in for more criticism as it poses a major challenge for court proceedings which utilise Skype.
At the handing over ceremony of a video recording system at Vigilance Magistrate's Court, East Coast Demerara, Chief Justice Roxane George said that one of the main challenges the court is facing is poor Internet service that affects 'skyping' during court hearings. She noted that in some cases, parties are unable to hear or see what was happening in the courtroom because of GTT's poor internet connection.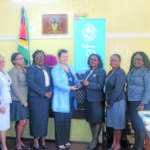 "We do recognise that we do have these challenges, we have them with our phones and other technology but for the most part, it is definitely [the recording system] allowing somebody in a remote location to participate in the trial process," the Chief Justice said.
Meanwhile, the Vigilance Magistrate's Court is the first court on the East Coast corridor to benefit from a video recording system.
The $1.5M investment was donated by the United Nations Children's Fund (UNICEF).
Technology and justice system
In brief remarks during the simple handing over ceremony, Chancellor of the Judiciary, Justice Yonette Cummings-Edwards underscored the importance of the video recording system, explaining that technology is changing the way justice is delivered.
"This Skype system will help us to take evidence even where witnesses are abroad, where they might be in the hospital, even the Police might be in another location, they might be in the interior… Guyana is so huge that witnesses, investigators might be in different parts of the country and may have a case in another part of the country and the time and distance it takes to get to that part of the court may result in the matter being dismissed…or the matter being adjourned," she said.
The Sexual Offences Courts in all three counties of Guyana are equipped with this technology. The Children's Court in Georgetown and the newly-commissioned Diamond Magistrate's Court have the recording system.
Meanwhile, Chief Justice George explained that these devices are particularly helpful in sensitive cases such as trafficking in persons.
"There are a lot of issues of fear, there are a lot of issues with a differential between the person who is being accused as against the person who is the victim and has to testify. If we can allow these persons to testify remotely it means they can give their evidence from a more comfortable space," she stated.
It was underscored that the video recording systems will play a significant role in helping to restore confidence in the justice system in Guyana.