A 44-year-old porter met his demise on Tuesday after he allegedly fell off a tractor on which he was travelling at Batocari Trail, Mazaruni District, Region Seven (Cuyuni-Mazaruni).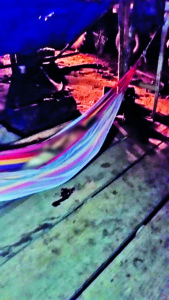 The dead man has been identified as Leonard Henry of Moruca Village, Region One (Barima-Waini).
Based on information received, the tractor bearing registration number 21376, which was at the time driven by a 44-year-old man, was proceeding along the Batocari Trail carrying three porters.
Henry was reportedly seated on the left side of the tractor while the other two porters were at the back. However, an allegedly drunken Henry reportedly fell between the left-side wheel of the vehicle and the chassis, and was subsequently run over. Although injured, Henry got up and climbed back onto the tractor, which continued its journey to the mining camp.
He then went to sleep and was later found in a motionless state by a colleague.
An alarm was raised and eventually, Henry was rushed to the Bartica Regional Hospital, where he was pronounced dead on arrival by a doctor on duty on Thursday. A report was made at the Sherima Police Station.
The driver of the tractor was arrested, and was currently assisting with the investigation.