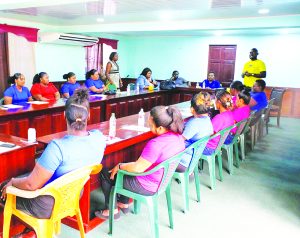 Food For The Poor (Guy) Inc recently hosted a one-day capacity-building workshop with the Potaro Women's Group in Region Seven (Cuyuni-Mazaruni).
The workshop was aimed at strengthening their capacity in the area of organisational development and focused on preparing a road map for defining the organisational structure, drafting a constitution, group dynamics, and communication.
The facilitators of the workshop were Independent Consultant Kobe Smith; ChildLink Guyana, Parenting Skills Officer/Social Worker Stacy Parris, Project Associate Orin Nelson, and Food For The Poor (Guy) Inc Senior Project Officer Valini Leitch.
The facilitators spoke on the importance of organisational documentation and drafting of constitutions and policies, organisational structure, the importance of team building, and the functions of each member once elected to serve.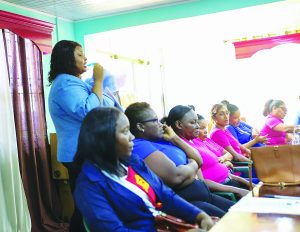 Parris touched on the importance of clear and effective communication in the family and groups. She encouraged the women to take the opportunity to be bold and model positive behaviour as this would allow them to be better communicators. Leitch concluded the session with the importance of hygiene, self-care, and creating personal time for themselves which would boost their mental capacity.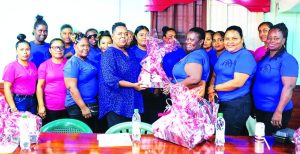 Committee members of the Women's Group thanked Food For The Poor for investing its time in helping the group to understand the dynamics of an organisation and the importance of effective communication.
The Potaro Women's Group is a young grassroots organisation which aims to promote socio-economic development for women specifically survivors of domestic abuse and it is eager to make a meaningful difference in their region.