− during meeting with NY- based Guyanese business community
President Dr Irfaan Ali on Friday made sure he met with members of the Guyanese diaspora business community during his visit to New York to attend the United Nations General Assembly (UNGA). He has updated his countrymen on the opportunities currently existing back home.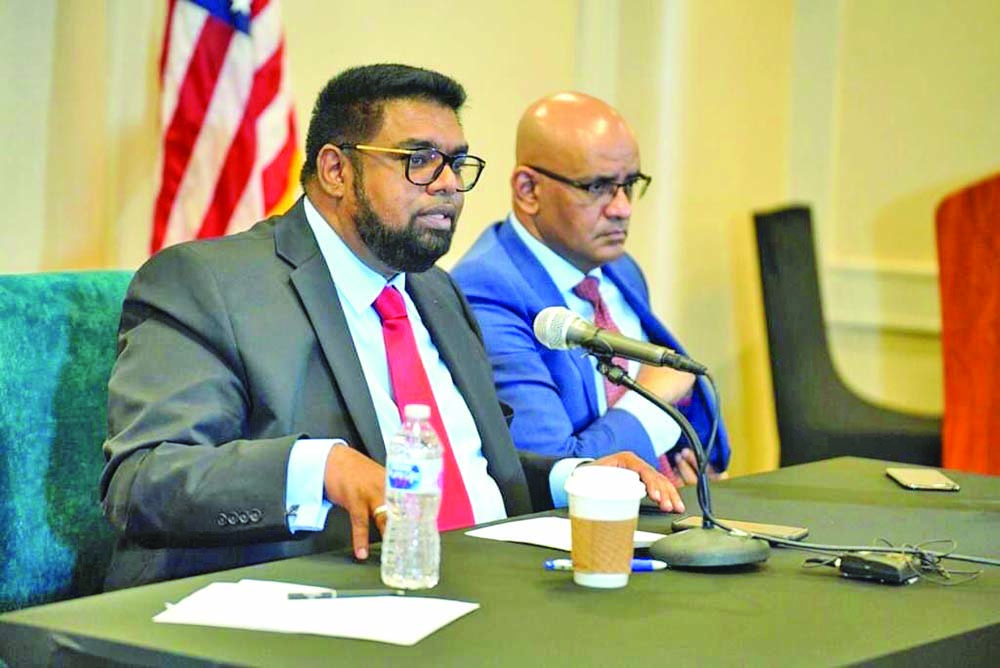 During the meeting, which was held at the Hilton JFK Hotel in Queens, New York, President Ali and Vice President Bharrat Jagdeo met with a wide cross-section of business owners to talk about opportunities in various sectors and on areas of investment.
President Ali outlined Guyana's development plans and their potential to make a positive difference in the lives of Guyanese. According to him, his Government is focused on "national positioning", and he pointed to the diaspora's involvement as a critical component.
He also assured the group that his Government's focus is on fixing the systems that were neglected or broken in the previous five years in the former A Partnership for National Unity/Alliance For Change's (APNU/AFC's) tenure.
The President, who was accompanied by Foreign Secretary Robert Persaud and members of the Guyana Consulate, also told the business community that the Government is focused heavily on creating opportunities for growth and expansion of the economy, and improving living conditions for all Guyanese.
With Guyana slated to emerge as one of the most diversified economies in the Region, President Ali and his Government have made it a priority to encourage potential investors to look not only at the oil and gas industry, but at other sectors.
"I want to…say to all potential investors that you need to come, you need to explore, and you need to look holistically at the varied opportunities in Guyana. Whether it is large-scale agriculture production, whether it is mining, whether it is forestry, whether it is in the healthcare system (or) the education system; you need to understand the varied potential Guyana offers for different types of investors. It is not only about oil and gas; oil and gas has really brought attention to Guyana, a sleeping giant in investment opportunities," he had said at one point.
The President had also pointed to the planned gas-to-shore energy project as a major catalyst for industrialisation. During the opening of the Guyana Basin Summit 2021 (GBS), President Ali had noted that this would afford the economy the opportunity to have an enhanced manufacturing sector.
He had also said it would allow Guyana to become an industrial powerhouse, a model energy state, the breadbasket of the region, the Silicon Valley of the Caribbean, and a sustainable tourism paradise.
Such is the resilience of Guyana's economy on the backbone of oil and gas that Guyana, which started producing oil in 2019, was the sole Caribbean country with positive Gross Domestic Product (GDP) growth in 2020.
According to a World Bank report that shed light on how Latin America and the Caribbean economies fared in 2020, Guyana was able to do what 27 other countries in the region could not – record GDP growth, notwithstanding the global COVID-19 pandemic.
With the measures announced in the 2021 budget, Finance Minister Dr. Ashni Singh had said that Guyana's real GDP is projected to grow by 20.9 per cent this year, with the non-oil economy growing by 6.1 per cent.
However, he had explained that the projection is premised on the assumption that a reopening of the economy takes place, with COVID-19 restrictions being gradually lifted; and is therefore subject to significant downside risks.
Similarly, the agriculture, fishing and forestry sector is expected to expand by 5.6 per cent, while the mining and quarrying sector is projected to grow by 39.1 per cent.