The men's and women's finals in the People's Progressive Party/Civic "One Guyana" Linden beach football championships were decided on Saturday night as a large crowd witnessed the quarter-finals and semi-finals among the men and the semi-finals for the females which were played in the compound of the Party's office in Industrial Area in Linden.
At the conclusion of those clashes, YMCA and Swag will contest the men's final and Superstars will match skills with Speightland for the women's crown to be played next Saturday in Linden.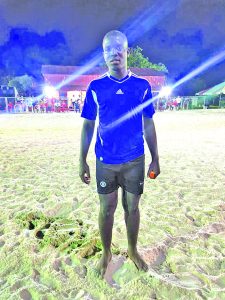 Superstars first made it to the women's final by beating Dynamo 2-1, with their goals coming from Naomi Williams and Patsy Walker for the victory.
Their opponents in the final, Speightland blasted their way past a hapless Nurses side with national Under-20 football player Sheneesa Cornelius hitting the nets four times as Kyandi Smith got a brace, with Danacia Williams, Nikita Wayne, and Lakeisha Pearson getting the other goals.
For the Nurses side, their goals were recorded by Natasha Headley and Janella Gildery.
Swag would qualify for the final after taking care of Young Gunners 2-0 in the quarter-finals after Donovan Francis got both goals and then facing them in the semi-finals where the result favoured them again by a 4-2 margin.
Francis got another double and Colwyn Drakes emulated him with two goals also for the Swag men. The goals for Young Gunners were registered by Devante Tappin.
YMCA pulled out the stops and won 5-3 against R9 in the other semi-final clash of the night.
Kevin Gittens and Jamal Bentick were responsible for the win by the YMCA side with both scoring twice.
Jahu Regis and Jona Simmons netted the goals for the R9 unit.
In other results, from an earlier match, R9 gained a solid 4-0 victory against Kara United as goals were scored by Julian Regis, Tasha Reich, Andre Mayers, and Simmons.
On Saturday, the finals would be contested at the compound of the PPP/C Office in Mackenzie, Linden.